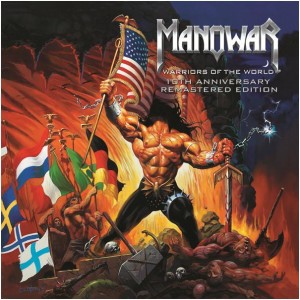 Most people are ruled by a fear of what other people think. If they don't end up looking cool to their friend group, they fear they have become invalidated and are worthless. As a result, people have difficulty accepting anything which is not ironic, contrived and vague.

On the other hand, there's Manowar.
If you need a good dose of healthy fighting spirit, and a sense of both power and beauty in life, and like the thought of of no longer caring what the in-crowd thinks, Manowar can be liberation. There is no doubting that this music is bombastic and emotionally transparent and direct, which some might call "cheesy."
However, it's completely ludicrous to assume that this is any more cheesy than your average metal or rock band. What makes it stand out is that it isn't neurotic. It embraces a pure heavy metal spirit that affirms bravery, strength, power and a desire for life to be more than "practical" and dollars and cents. You might find it awakening the part of you we might even call… a soul.
That being said, Manowar create in the hazy area between classic heavy metal, glam or stadium metal, and speed metal. They use a lot of speed metal technique to give some backbone to songs which are not afraid to explore melody, mood and atmosphere. What seems like a straightforward heavy metal album has a number of surprises.
You think the intellectuals would like it. What other heavy metal album busts out a Puccini aria from Turandot on the third track, complete with cascading power chord riffs backing up vocalist Eric Adams as he entirely competently belts out this song? Further, despite its many side-steps and quirks, this album is a concept work. How many bands dedicate an album not to war, but those who fight? And make it interesting throughout?
True, there's a ton of balladry here. There's a reason that glam metal is included in the list of Manowar influences. These guys took the effete ballads to cheesy women that made glam bands both rich and annoying, and have injected them with instead with a sense of masculine power and the satisfaction of putting things to right when they are disordered. How else to explain the relentlessly patriotic "The Fight for Freedom" two songs away from a tribute to Odin that sounds like a more radio-friendly Bathory? Warriors of the World provides metal fans with a way to connect to emotion without giving in to the weakness of self-doubt and displacement.
The reason we listen to Manowar is that it is just solidly great heavy metal. Like a good opera, each song builds up until there's energy ready to explode and then it unleashes its momentum into a new direction that becomes as anthemic, foot-tapping and lighter-waving as the best from rock 'n' roll as a whole. At these moments, the listener feels like a wave of power bursting free from its containment and raging across a world ripe for destruction. It's hard to deny the essential appeal of "Warriors of the World," which is both catchy and elegant.
If you liked Def Leppard in high school, or find the more aggressive moments of Led Zeppelin make you want to punch out your boss and ask out your unspoken high school crush even though she lives three states away, you will immediately pick up on the appeal of this record. The additional technique just makes this more powerful. It's harder to spot the Queen and Jethro Tull influences, but they are as much part of this album as the Metallica-inspired E-chord rhythm noodling.
Warriors of the World now sounds better than ever thanks to a remaster which didn't just turn up the volume with the help of compression. It is louder, but dynamics are preserved, and some things that were quieter in the mix the first time have come back with strength. This is especially important with the many vocal tracks and complex interweaving of guitars, vocals and chorus on this album. What makes the album appreciated is its timeless heavy metal quality.
This seems to have been the intent all along. Having conquered basic heavy metal moods, Manowar opted for an ambitious offering with their ninth studio album, and time has been kind to it as it rises above the limited imagination of others. Don't worry about what the people you think are your friends "think." Enjoy this for the ambitious musical offering of pure heavy metal spirit that it is.
http://www.youtube.com/watch?v=AJ0sW7KOFhU
Tags: Heavy Metal, manowar, power metal