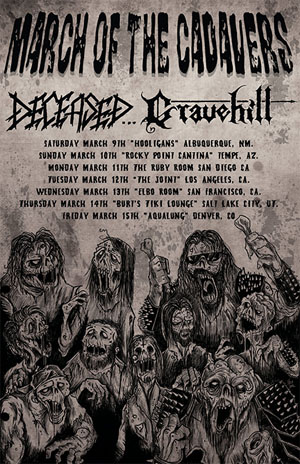 Death metal early adopters Deceased begin their 2013 tour with special guests Gravehill on the "March of the Cadavers 2013 Tour" tomorrow in Albuquerque, NM.
Long-supportive of both the death metal scene and the primal horror-based heavy metal that went before it, Deceased are famous for being one of the first death metal bands to have recognizable technical prowess at a time when most people thought of death metal as violent incompetents with loud guitars.
Since those hazy early days, Deceased has continued releasing material and has mutated into a crossover between side-projects (October 31, Doomstone) and the band itself, ending up as a classic heavy metal band with death metal technique and horror-inspired, literate and funny lyrics.
Gravehill are middle-of-the-road, ear-friendly high-energy death metal that has made converts of people looking for music to party to — preferably with the dead — across the globe. 2011's When All Roads Lead to Hell, on Dark Descent Records, won them fans and acclaim in both aboveground and underground metal.
March of the Cadavers 2013 Tour Dates:
Saturday March 9th @ Hooligans – Albuquerque, NM
Sunday March 10th @ Rocky Point Cantina – Phoenix, AZ
Monday March 11th @ Slidebar – Fullerton, CA
Tuesday March 12th @ Los Globos – Los Angeles, CA
Wednesday March 13th @ Elbo Room – San Francisco, CA
Thursday March 14th @ Burt's Tiki Lounge – Salt Lake City, UT
Friday March 15th @ Aqualung – Denver, CO
Saturday March 16th @ Cheyenne Saloon – Las Vegas, NV.** (w/ AVENGER OF BLOOD & SPUN IN DARKNESS)
** no DECEASED