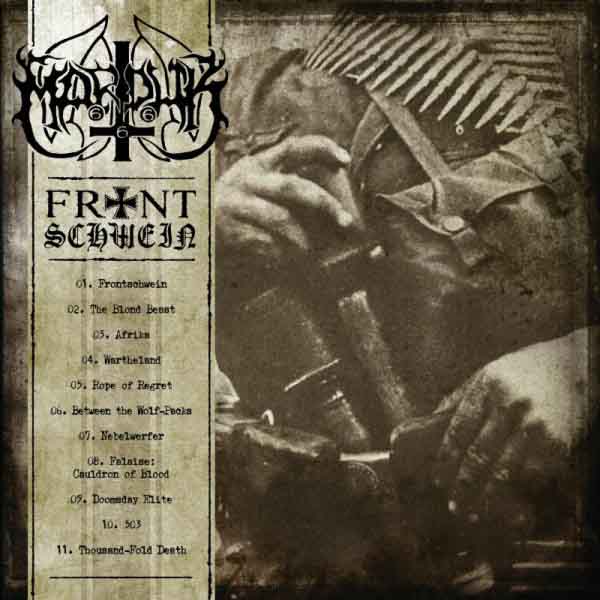 Marduk attempts to return to their past of blasting melodic war-themed ultra-simplistic black metal, evoking Panzer Division Marduk more than the mysterious album which preceded it, Opus Nocturne, which remains arguably their strong point. The band incorporates some elements of tribal-industrial hybrid rhythms, but stays on point with short riffs. Arguably this mature form of Marduk offers more variation in tonal construction and riff form than ever before, but its tendency to use similar song structures and nearly constant exercise-video style tempi wears down the power of this release.
Like later Vader albums, the attempt to make the album fully intense creates a wallpaper effect where all of the intensity flows together because lack of internal variation deprives it of the context to make a truly great impact; in addition, riffs use a very similar vocabulary of rhythm and pattern, which makes songs hard to distinguish. Where Marduk excels is in, while avoiding the standard MTV form most metal bands use, orchestrating a rise of intensity that explodes into a clever use of melody and tempo change to produce a dramatic impression. The theatrical side of this band creates moments of impressive songwriting throughout the album.
Black metal vocals of the type that approach a chant more than a howl decorate this album and while much of listener focus is anticipated to be directed at these, they stand back when the guitars lay forth a mix between sawing rhythm and gentle lifts of melody, much like early Dawn albums or their militant spin-off Niden Div. 187. Frontschwein shows Marduk at their best in recent memory, and in modern warfare they have found a new inspiration, but the whimsy and mysterious nature-mysticism of Opus Nocturne was closer to black metal than what we might call this, 'melodic war metal,' and as a result like most rock projects it fades into repetition that becomes distinguished only by vocals and lyrics. Nonetheless good material appears throughout this album.
Tracklist
Frontschwein
The Blond Beast
Afrika
Wartheland
Rope Of Regret
Between The Wolf-Packs
Nebelwerfer
Falaise: Cauldron Of Blood
Doomsday Elite
503
Thousand-Fold Death
Warschau III: Necropolis (Mediabook bonus track, in cooperation with ARDITI)
Tour
EUROPEAN HEADLINER tour with Belphegor (special guest) and two support acts
19.02.2015 HOL Rotterdam / Baroeg
20.02.2015 HOL Eindhoven / Effenaar
21.02.2015 HOL Sneek / Het Bolwerk
22.02.2015 BEL Vosselaar / Biebob
23.02.2015 UK Plymouth / The Hub
24.02.2015 UK Manchester / Academy 3
25.02.2015 UK Glasgow / Audio
26.02.2015 UK London / Underworld
27.02.2015 FR Paris / Divan du Monde
28.02.2015 CH Monthey / Pont Rouge
01.03.2015 FR Toulouse / Dynamo
03.03.2015 SP Madrid / Caracol
04.03.2015 SP Barcelona / Apolo
06.03.2015 ITA Turin / Cafe Liber
07.03.2015 ITA Brescia / Circolo Colony
08.03.2015 SLO Nova Gorica / Mostovna
HATEFEST 2015 with Six Feet Under, Vader and Hate
02.04.2015 DE – Leipzig, Hellraiser
03.04.2015 AT – Wien, Gasometer
04.04.2015 CH – Pratteln, Z7
05.04.2015 DE – Essen, Weststadthalle
06.04.2015 DE – Saarbrücken, Garage
07.04.2015 DE – Lindau, Club Vaudeville
08.04.2015 DE – Ludwigsburg, Rockfabrik
09.04.2015 DE – Hamburg, Markthalle
10.04.2015 DE – Geiselwind, Musichall
11.04.2015 DE – München, Backstage
12.04.2015 DE – Berlin, Postbahnhof
Tags: Black Metal, Frontschwein, marduk, War Metal