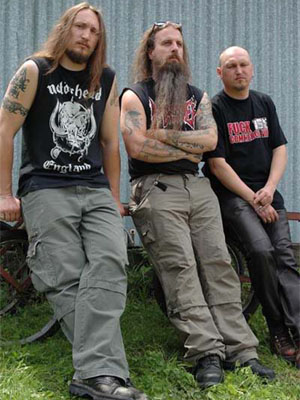 Ever since the opening notes of Death Strike's Fuckin' Death, Master and its related projects have gripped the imagination of the metal community. Simple and direct, the music represented a missing link between punk and death metal.
This year's The New Elite takes the band more in the direction they took on one of their most popular albums, On the Seventh Day…, which showcased precise playing and rhythmically aggressive songs with more chord changes than a punk band would use. In other words, they moved to modern (now "old school") death metal.
This was an interesting choice considering the range of the band over the years. Starting in the early 1980s, when Paul Speckmann and others left War Cry to experiment with this new kind of metal, Master, Abomination, Death Strike, Speckmann Project and other bands of this origin have one thing in common: basic, punk style riffs using metallish minor key and chromatic progressions, with influences from blues, rock and hard rock in the fills.
The New Elite made our Best of 2012 list with this review:
Master – The New Elite

Over the past few albums, punk/heavy metal hybrid Master has steadily been migrating toward late-1990s death metal. This new album presents a more technical view than the verse-chorus-exposition songs that Master (and related Speckmann projects) evolved from. Much like On the Seventh Day God Created…Master, riffs are strummed with precision at high speed and tend to lead away from stable grouping by adding riffs to the existing loop. These riffs use longer progressions and more chromatic fills, giving the music a mechanical terror that makes it sound like technocracy taking over. Speckmann's vocals are tighter than in the past and urge the music along, but somewhere in this musical process of evolution, his overall tone has started sounding less like protest music and more like a cheering of the coming conflagration. Seeing that Master keep improving over time provides a great incentive to follow this band as they evolve further.
Now you can catch Master on tour and appreciate the wizardry behind these manic and often insightful tunes as they tour with Sacrificial Slaughter and Fisthammer on a 32-date jaunt across the USA:
Fri. March 1st – Los Angeles, CA @ The Joint
Sat.March 2nd – Oakland, CA @ Oakland Metro
Sun.March 3rd – Portland, OR @ The Branx
Mon.March 4th – Seattle, WA @ 2 Bit Saloon
Tue. March 5th – Boise, ID @ The Shredder
Wed.March 6th – Salt Lake City, UT @ The Complex
Thu. March 7th – Cheyenne, WY @ Forum 619
Fri. March 8th – Topeka, KS @ The Boobie Trap
Sat.March 9th – St. Louis, MO @ Fubar
Sun.March 10th – Madison, WI @ The Frequency
Mon.March 11th – Chicago, IL @ Reggie's Rock Club
Tue. March 12th – Warren, MI @ The Ritz
Wed. March 13th – Rochester, NY @ Bug Jar
Thu. March 14th – Providence, RI @ Firehouse 13
Fri. March 15th – Brooklyn, NY @ Saint Vitus Bar
Sat. March 16th – Philadelphia, PA @ Gunners Run
Sun. March 17th – Baltimore, MD @ Ottobar
Mon. March 18th – Asheville, NC @ Static Age Records
Tue. March 19th – Dothan, AL @ Herman's Billiards
Wed.March 20th – New Orleans, LA @ Siberia
Thu. March 21st – Fort Worth, TX @ Tomcats West
Fri. March 22nd – Oklahoma City, OK @ Chameleon Room
Sat. March 23rd – Houston, TX @ BFE Rock Club
Sun. March 24th – Austin, TX @ Beerland
Mon. March 25th – San Antonio, TX @ Zombies
Tue. March 26th – Midland, TX @ Pine Box
Wed.March 27th – Albuquerque, NM @ Launchpad
Thu. March 28th – Tucson, AZ @ The Rock
Fri. March 29th – Mexicali, MX @ Bar El Andariego
Sat. March 30th – Pomona, CA @ Characters Sports bar
Sun. March 31st – Oceanside, CA @ The Royal Dive *
Mon.April 1st – Long Beach, CA @ Alex's Bar *
* = NO Fisthammer