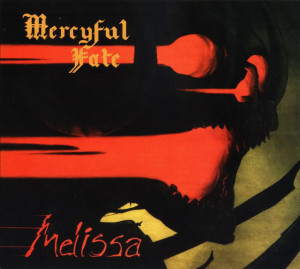 Released on October 30, 1983, the first album from Denmark's Mercyful Fate proved to be a decisive one for metal. While the band never ventured behind a NWOBHM-speed metal hybrid comparable to Blitzkrieg/Satan, Tank or Diamond Head, the uniquely operatic vocals of King Diamond and the band's ability to write compelling heavy metal that also had a touch of the otherworldly quickly made Mercyful Fate an important band.
While many have written about their influence on black metal, it's important to mention that this is not a black metal band, or album. Expect heavy metal, with the type of muted-strum riffs that later made speed metal capture the attention of metalheads worldwide, but with a greater focus on dynamics and pacing. On the surface, it sounds like many other bands from the era, but Mercyful Fate gave the music a unique spin and pushed quality over the top.
As a result, the band, fronted by the legendary King Diamond in his Alice Cooper-inspired face paint, became a staple of the "below-mainstream" metal crowd and quickly won a place on every metal record store's walls. Through a series of early albums such as Melissa and Don't Break the Oath, the band gradually shaped metal's underground away from repetitive intensity and more toward the type of operatic variation in intensity that marked the influences on King Diamond's vocals.
30 years have passed since this album first detonated car stereos and home units, but its influence is vast and hard to estimate. First, it shaped bands like Metallica toward more imaginative and melodic songwriting; next, it shaped black metal as a melodic, dynamic, motif-driven genre. Finally, the band's outright flirtation with Satanism as a form of successor philosophy to the genteel benevolence of the society at the time influenced the metal to follow in non-musical as well as musical ways.
http://www.youtube.com/watch?v=UGQFdv6ayHY
Tags: mercyful fate, Speed Metal