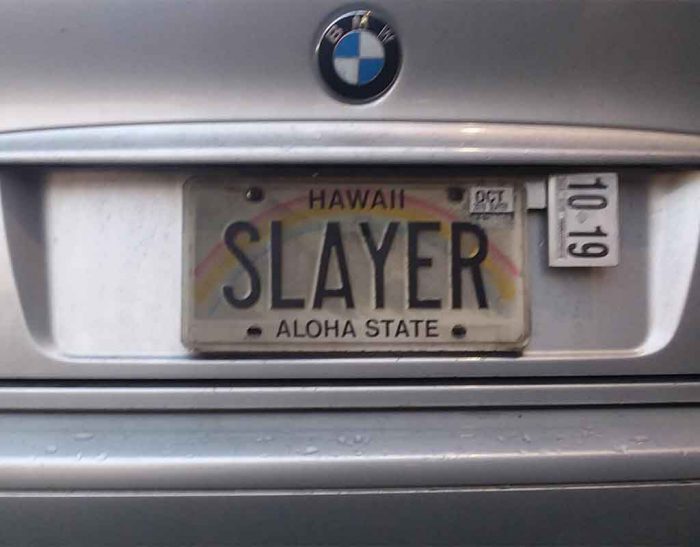 Metal worships the extreme and natural, such as death, war, disease, horror, and disaster. This allows it to snap out of the normal human social bubble, where we only talk about pleasant things, and to accept life as it is, which in turn enables metalheads to perceive the beauty inherent in our chaotic world.
Consequently, metal has always pushed boundaries for no purpose other than to beat back the human social bubble and discover more of actual reality, something which is impeded regularly by the taboos, trends, fads, and other limitations imposed on what can be discussed.
In this way, metal is both not politically correct and also in favor of liberalized topics for discussion. Like summer storms, we simply smash down fences and tear apart walls. This causes us to be on the forefront of discussions about what can be said and how life can be lived.
Apparently, this even extends to license plates, since California blocks Slayer-inspired vanity plates:
James Blair is also suing the DMV after being told that his proposed "SLAAYRR" plate—a reference to the metal band Slayer—was "threatening, aggressive, or hostile" and therefore violated the department's prohibition on offensive plates.
Society prefers the pleasant illusions over complex realities, which are not uniformly composited of simple and unthreatening things, and so it tends to exclude anything it can which yanks people out of the human social bubble and into dark, ambiguous realism.
Let us hope that metal can continue to forge forward in removing illusion, which is static and directionless, and replace it with constant conflict from which at least direction and clarity emerge.
Tags: censorship, license plates, slayer