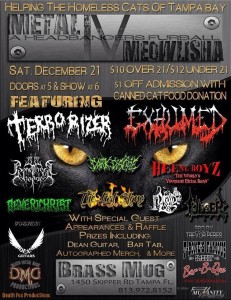 Heather and Donald Tardy (Obituary) may operate the world's most unique charity. Metal Meowlisha consists of metalheads helping cats, and it presents its annual fund-raising concert live in Tampa, FL with Terrorizer, Exhumed, Druid Lord and a host of other bands.
Metal Meowlisha cares for the large number of feral cats loose in Southern Florida. They trap feral cats, neuter/spay them, and return them to the streets so that the population of additional strays is reduced. Metal Meowlisha also provides medical care to strays, feeds 20 colonies of feral cats, and attempts to help lost and injured felines find forever homes.
The concert will be held at the legendary Brass Mug and include a raffle, BBQ by Trevor "T-Bone" Peres of Obituary, and performances by a number of high-profile metal bands. All proceeds go to the Metal Meowlisha (you can also donate via email). Raffle prizes include a Dean Guitar, a bar tab, autographed merch and more.
There are additional reasons to help cats other than the cats themselves. Outdoor cats kill 1.4-3.7 billion birds per year in the US alone. Limiting feral cat numbers through trap-neuter-release and giving them alternate food sources lessens this assault.

Metal Meowlisha: A Headbangers Furball IV [ event ]
Terrorizer, Exhumed, Promethean Horde, Dark Disciple, Druid Lord and others
Saturday December 21, 2013 at 5:00 PM
$10.00 21 & up / $12.00 under 21 / $1.00 w/ canned cat food
The Brass Mug
1450 Skipper Road
Tampa, FL
813-972-8152

Tags: brass mug, druid lord, exhumed, metal meowlisha, terrorizer