Maryland Deathfest went full SJW by announcing that it was severing ties with death metal band Disma for its California Deathfest event. This comes only a day after the MDF organizers denied any connection between their act and SJW beliefs, blaming it instead on the departure of guitarist Daryl Kahan from the band.
Disma was dropped because of the pressures and safety/security at stake, demand by the Oakland community – which let me remind you – is the most racially integrated city and progressive in the entire country. As one of the organizers behind this, our community has zero tolerance for any kind of bigotry or hatred. Period. Craig Pillard had the opportunity to repudiate his past ties to fascist promotion, but he clearly choose not to. That is entirely his choice. Thanks tot he growing pressures of the Movement in Ferguson and Baltimore, with Oakland battling racist police for three straight weeks, you best think twice before coming here championing any kind of oppression.
Disma fired back a response that was predictably irate, seeing how the band has lost time and money in preparing for its departure to this fest: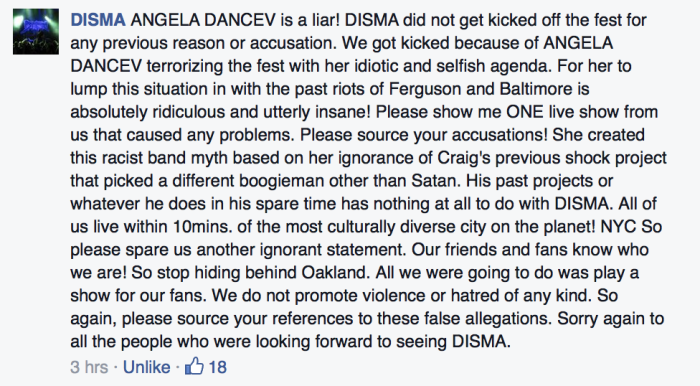 ANGELA DANCEV is a liar! DISMA did not get kicked off the fest for any previous reason or accusation. We got kicked because of ANGELA DANCEV terrorizing the fest with her idiotic and selfish agenda. For her to lump this situation in with the past riots of Ferguson and Baltimore is absolutely ridiculous and utterly insane! Please show me ONE live show from us that caused any problems. Please source your accusations! She created this racist band myth based on her ignorance of Craig's previous shock project that picked a different boogieman other than Satan. His past projects or whatever he does in his spare time has nothing at all to do with DISMA. All of us live within 10mins. of the most culturally diverse city on the planet! NYC So please spare us another ignorant statement. Our friends and fans know who we are! So stop hiding behind Oakland. All we were going to do was play a show for our fans. We do not promote violence or hatred of any kind. so again, please source your references to these false accusations. Sorry again to all the people who were looking forward to seeing DISMA.
Yesterday, Maryland Deathfest organizers reacted with denial and insults when confronted with their actions. Today, they confirm what was said here and then denied by MDF, and even more, double down on the vitriol and defensive posture. It seems that MDF does not like being recognized as SJW-run and pro-censorship, but they can't find a way out of the corner they have painted themselves into. No sympathy here.
Tags: angela dancev, california deathfest, craig pillard, daryl kahan, disciples of mockery, disma, incantation, maryland deathfest