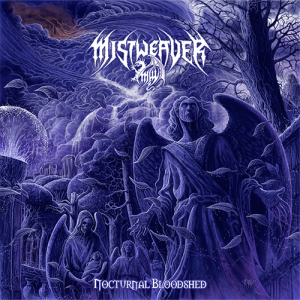 Labeled under the very loose term melodic death metal, Spanish band Mistweaver write a versatile power metal with mainstream sensibilities and growling vocals. An experienced band sharing the stage with many prominent acts such as Suffocation, Enslaved, Exodus, Grave and Sodom, Mistweaver is onto their 5th full-length album.

The versatility in style mentioned earlier refers to a range in riffing that oscillates between straight up heavy metal to heavy-doom to acoustic passages that come out of nowhere topped with typical folk melodies ala Wintersun. But these guys are more accessible than the black-touched Wintersun, making heavier use of headbanging chugs and simple melodies. The use of keyboards is similar to the role given to them in In the Nightside Eclipse. Some sections touch on the more opera rock – oriented brand of power metal, the so-called symphonic power metal.
Mistweaver is the sort of band that has stayed on top of their game by doing everything that is expected of them. They have been active and playing with big names, they have put out an average of one album every three years (long enough for the judicious fan not to fall for a fast and cheap album, but not so long so that said fan does not conclude that the band has gone rusty), and their music has every single trait a fan of the general power metal and related genres might wish to find in an album of this kind.
Tags: 2014, 2015, Melodic Death Metal, mistweaver, Nocturnal Bloodshed, power metal, Spain