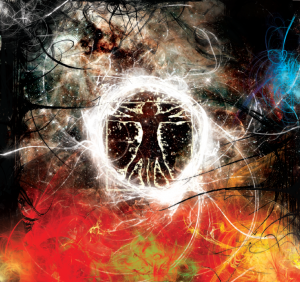 The job of a reviewer is to describe music, not judge it. Assessment ultimately becomes obvious from the context of expectation created by the reviewer which shows where all things must fit in the bigger pattern.
Monsterworks resembles a mixture of things and prefers to stay that way. The majority of the structural parts of songs are like Led Zeppelin mixed with Southern Rock and early doom metal, using metalcore style rasp vocals, so that most of what you hear is very guitar-rock styled heavy metal. This is a welcome change from the less organic metalcore of late.
If you like guitar playing that is bluesy, varied and emotional, this album will pique your interest. While the vocals rant, guitars hit all the right rhythms and then work in leads with the fills, slowly building up intensity until the song explodes in sound. If you can imagine Led Zeppelin and Ion Dissonance collaborating on a stoner doom album, this might be about it.
Monsterworks create very much in the 1970s style, and yet with its vocals and aesthetics, very much in the 2010s style as well. The result is both deeply engaged and like newer metal hybrids, incessant in its peak intensity, which can make it meld together indistinctly. It often detours into "different" arenas, like progressive rock, tech-deth, and straight up hardcore, as if a variety show.
Album of Man reforms the anti-technical side of post-metal and metalcore however by using the guitar as a voice of its own, and breaking up the strident extremity with old fashioned instrumentalism. This both brings rock and metal back to their core and renews the intensity of the vocals. By doing so, it takes newer metal to a better place and makes for a more satisfying listen.
Tags: indie, metalcore, monsterworks, nu-metal, progressive, tech-deth