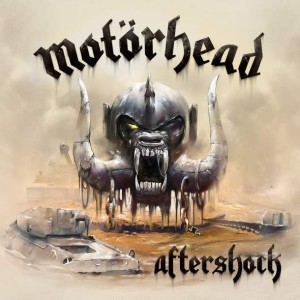 Motörhead is like a kaleidoscope. Anytime you look in, you get a different vision, but it's still clearly made of Motörhead, even if turned around a bit. The band is both distinctive and consistent in its unique style.
Aftershock is like any other Motörhead except that the kaleidoscope is particularly vibrant and more rounded and orderly than most visions. Clearly someone at the band or label had in mind a partner to 1991's 1916, which for many marks the band at its most listenable.
Why is 1916 so lauded? Each song used its own techniques, rhythms and structures that were not shared wholesale with other songs. Songs were finished, showing a craftsman's touch to a normally hasty art. Variety of pace and emotion broke up the record. The killer loud production didn't hurt either.
Following along those lines, Aftershock is a bluesy hard-rock version of Motörhead with aggressive, catchy songs that at times resemble Motley Crue playing Motörhead. However, the album excels in quality control. All riffs are necessary, and while repeated a great deal, there is no unnecessary repetition and best of all, no unordered songs that sort of rambled off into the horizon.
It doesn't have the pop appeal of 1916 which was a passionate and somewhat melancholy album that attracted people to its intensity, but even more, how easily grasped the songs were. They are not quite as distinctive on this album and fade more into the backdrop of what Motörhead has been doing for the past two decades. However, they're also good summaries of the Motörhead sound from a slightly newer perspective.
One other thing of great interest is how guitar-based this album is. In rock-based music, the guitar is where most of the musical depth goes, since it's hard to do it with vocals or drums. Here, the guitar leads the songs more than the bass or drums, which creates a surging feel and a constant background of energy. The solos and fills from the guitar flesh out the pattern and give depth to what otherwise might be too hard-charging to be anything but linear.
The point of Aftershock is to be a Motörhead album and to make a slightly updated and more powerful vision of what's in the kaleidoscope. It succeeds brilliantly and while it isn't as immediately distinctive as 1916, it adds a greater field of detail and appeals to the same audience, albeit more with pop form than pop sensibilities. Underneath all of that of course is the same raging engine that brought us this band in its glory days, amped up and ready to strike, with no thoughts of mercy at all.
Tracklist:
Heartbreaker
Coup de Grace
Lost Woman Blues
End Of Time
Do You Believe
Death Machine
Dust And Glass
Going To Mexico
Silence When You Speak To Me
Crying Shame
Queen Of The Damned
Knife
Keep Your Powder Dry
Paralyzed
http://www.youtube.com/watch?v=C214zJQwPhg
Tags: Heavy Metal, motorhead, NWOBHM