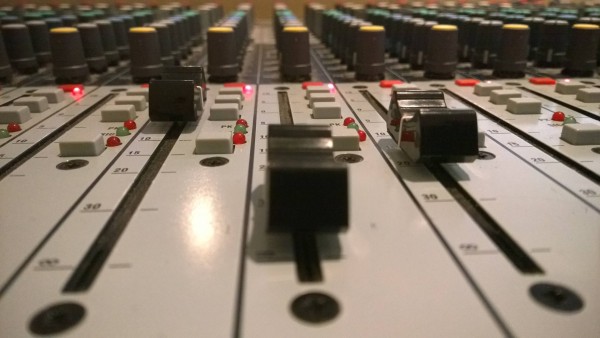 One consistency in human behavior is a tend to lie about motivations and conceal them behind justifications, such as the kid caught with his hand in the cookie jar who claims he saw a mouse and tried to catch it. For this reason, most human arguments can be assumed to be not only wrong but malevolently deflective. One such argument is the "but music is subjective!" trope beloved of the internet's zombie patrol of angry, isolated, lonely, vengeful and bitter people.
It is commonly used to retard the forward motion of anyone with an actual idea. When you find a great new album, and start talking about it, other people assume — as their glorious Simian ancestry would suggest — that you are attempting to seize power by appearing to be unique and wise. Perhaps you only want others to recognize the greatness of this album, but in their minds, that possibly is made remote. They retaliate by saying, "You might think that's great, but it's just your taste. Music enjoyment is subjective and so we are getting every bit as much enjoyment out of this album as you are from that one."
This territorial response seems consistent across human times and ages. Any new idea is viewed as an incursion into the old, or if a realistic idea, as an assault on the fanciful vision of others which they want us to accept as literal reality. They fear that music might be shared and not entirely personal, because then it no longer serves as an expression for their own self-image. Most of the behavior you see in rock music is fans projecting themselves into the experience, and musicians attempting to use fan projection as a justification for self-esteem, mostly to themselves.
But is music subjective? The term subjective refers to any quantity for which appreciation by the individual is the only measurement. Nothing however fits this description because all quantities relate to something external to the individual; either events in reality, objects or concepts which in some way relate to elements of reality. The idea of subjectivity is in itself totally flawed. Even a priori conceptions are not subjective because they are intuitive and thus not properties of the individual, but pre-exist the individual. This calls to mind the troubling term "appreciation" which implies a type of preference, an action which itself requires an external referent, and also seems a typically human dishonest approach in that to "appreciate" implies enjoying something for its own sake only for the purpose of gatekeeping approval. That way, the individual can say "I recognized that truth, but I only appreciate this notion," implying a truth-optional and reality-optional outlook. Obviously then the term "subjective" exists as a pre-emptive argument in defense of a choice rather than the reason for the choice itself.
This leaves us with the notion of objective, which in the human use is similarly flawed. Humans — being talking monkeys with car keys — view the objective as the universally recognized as true because it exists in reality. A more accurate assessment shows us that what is objective exists outside of individual humans, or in other words is reality itself. There is then no reason to label it "objective," since it is merely real. However, the objective/subjective dichotomy arose as a type of euphemistic deflection designed to explain how something can be true and obvious, but appreciated by only very few because the rest are too distracted, narcissistic or physically incapable of the cognitive processes necessary to understand it.
We can then dispense with subjective and objective as a dichotomy, and look toward the question hiding in shadow behind the question that opens this article: is appreciation of music consistent between human beings? That is the definition of objective that people want because it translates into the statement "Beethoven is better than Bieber" not merely "most people prefer Beethoven to Bieber." If music can be ranked in this objectivist way, then we can definitely say that Darkthrone is superior to Deafheaven or at least of a tier above it. On a social level, music becomes no longer "personal" because we the fans do not create it, or make it cool by our liking it, but discover it as it is and then alert others to that possibility. With "objective" appreciation of music, the music hipster fades away and the hype machine dies out, because both of these rely on projection by fans to make the otherwise unexceptional music they pimp seem important.
Certainly history seems to lean in this direction because the endless stream of favorites from the music labels tend to fade away, but a few bands that stand out seem to persist. History is not infallible because as any student of history knows, civilizations have a life cycle: at some point they start to decay and then die. When this is happening, they forget about all the good music and rush toward the trivial because people need distraction more than quality. In a healthy civilization however if a musician lasts for centuries it suggests something "eternal" about their music, as if it has a value beyond the immediate gratification of those who like it. Research suggests that humans recognize music as having certain attributes independent of culture:
Whether you are a Pygmy in the Congolese rain forest or a hipster in downtown Montreal, certain aspects of music will touch you in exactly the same ways. A team of researchers from McGill, Technische Universität Berlin, and the University of Montreal arrived at this conclusion after travelling deep into the rain forest to play music to a very isolated group of people, the Mbenzélé Pygmies, who live without access to radio, television or electricity. They then compared how the Mbenzélé responded both to their own and to unfamiliar Western music, with the way that a group of Canadians (in not-so-remote downtown Montreal) responded to the same pieces.
This provides a good argument that music can be appreciated across cultures and across ages of a culture because its language is universal. This could explain why some music, such as Beethoven's Ninth Symphony, find willing audiences across the globe. It also suggests that music which outlasts a generation and finds new fans who are unaware of its social, political and generational significance may possess qualities above the transient. Another source of support for the idea of universality of music comes from Arthur Schopenhauer, who wrote that music expresses pure thought:
That music acts directly upon the will, i.e., the feelings, passions, and emotions of the hearer, so that it quickly raises them or changes them, may be explained from the fact that, unlike all the other arts, it does not express the Ideas, or grades of the objectification of the will, but directly the will itself.
Without getting into a complex discussion of Schopenhauer's use of the term "will," we can roughly equate it to thought and awareness in the individual. Schopenhauer believes that music does not convey situations in which the will can be identified, but the will itself, meaning that it translates thoughts into sound and communicates directly. As written about on this site for two decades, music is a communication, in this case a metaphorical one in which can be seen many situations but which belongs to no one specific situation. This can be seen in many cases where musicians thought they were writing about a specific experience or condition, and found that people attributed the music to a broader state which appears in many types of situation. No matter how this is parsed, it reveals that the truth of music is not on the subjective side, and matches what people mean when they say "objective."
Tags: arthur schopenhauer, music, objective, objectivity, subjective, subjectivity, universality