Napalm Death – Utilitarian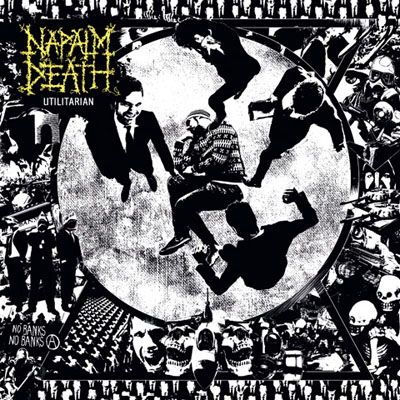 In rock 'n' roll, it's better to die young. Even that is a cliche, but so is rock itself. Formed when corporate investors found a way to combine blues, country, folk and pop into a single product, rock has no real soul and so it pretends. The result is a parade of cliches and you hope that if you change the order enough, you become the next Jim Morrison or Morrisey. The sad truth is that rock bands come in two types: the ones who have three albums worth of good ideas and then burn out, and the ones who make the same song over and over again when they run out of energy. If a teenage version of yourself ever walked into a record store and spotted the guy with thinning hair, faded tattoos, and a bunch of stories and even more excuses but no accomplishments, you know what the new Napalm Death is. This is the sound of exhaustion pretending it has vitality for long enough to sell the slop to the kids and move on. The songs are built around the same tired chord progressions, which are barely even progressions in any sense except chromatic patterns at convenient places on the fretboard. The rhythms and riff ideas come from past Napalm Death albums, with a few influences borrowed from older death metal scattered throughout. On top of this, the aged suit-wearing corporate rock Napalm Death throws a single "outside" nuance per song. One tries to imitate the noise/avant-jazz of the early 1990s. Another is halfway to being a Rite of Spring tune. Still another apes the blur-core aesthetic of the new style of grindcore. Others try to return to the bouncy glory days of Fear, Emptiness, Despair or Utopia Banished. Underneath the skin however there is a total lack of ideas or even the guts to just go ahead with something that feels right. This is a cynical, manipulative album hiding a plastic soul which just wants your cash. In aging into oblivion instead of dying young as rock heroes, Napalm Death have made a mockery of everything they stood for. By wrapping this in a trendy surface and trying to pull the works of classic death metal over them like a camouflage mantle, Napalm Death have created a gateway into this genre from the soulless and burnt-out. You have made us all hipsters. Avoid this horrible album.
Terrorizer – Hordes of Zombies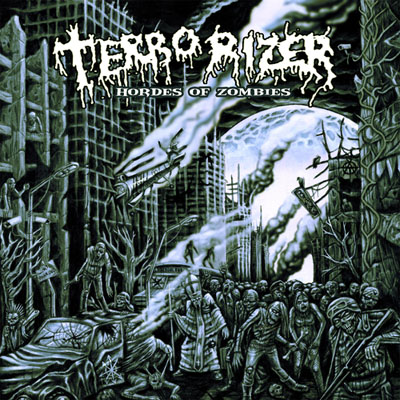 Melba toast has a crunchy exterior, yet turns soft in your mouth. Lightly toasted, it is sweet upon contact with saliva, and will never upset your digestion. In fact, it is like baby food, except that it is crunchy. The new Terrorizer is baby food, true, but it's awesome baby food. The band have focused not on innovation, not on a nifty surface, and definitely not on topic, since they're beating the dead couch of the zombie album. What they did do was make something that's easy to digest but unlike almost all metal released at this time, it's coherent. Riffs fit together and make sense, even if a kind of pidgin. Rhythms mate effortlessly yet have enough variation to give depth to the compositions. Much of this is pure chromatic, but it captures the momentum of a good riot or fistfight. As a result, it's easy to listen to and yet maintains its intensity throughout. If you can get over expecting something of emotional profundity like World Downfall, and instead look for the Terrorizer equivalent of Napalm Death's Fear, Emptiness, Despair (or even Aura Noir's Black Thrash Attack), you will find in this album a guilty pleasure. It throbs with aggression and yet by not attempting anything too complex, always manages to deliver. There is no attempt here other than to make an energetic, fun, musically-competent grindcore album and Hordes of Zombies rages supreme in this area. Oddly the only new influences seem to be a later Swedish death metal melodic tendency, and a study of riffs from the recent post-death metal era in which the punk riff and the recycled speed metal riff have crept back in. Wisely however Terrorizer keep their music extremely basic, along the lines of the first Brutal Truth album, but give it compelling rhythms and an underlying furor that makes us tune in to see how such violence can also be so much fun to listen to.
Tags: Grindcore, napalm death, sadistic metal reviews, sodomy, terrorizer