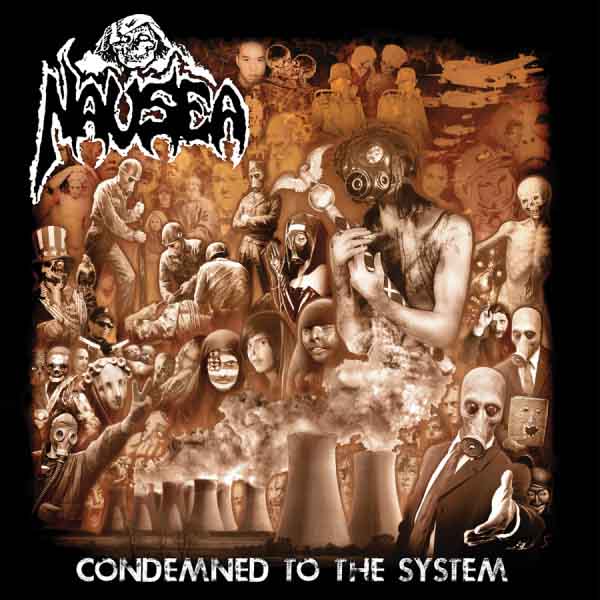 Yes, this is a metal blog, and yes, this is a punk album and also yes, people who try to be ironic are annoying. Nausea Condemned to the System is worth your time if you enjoy energetic and powerful music of any kind. Born out of a punk album, this half-hour terror extends to grindcore and the type of speed metal touches that influenced later 80s hardcore. Unlike most hybrids of this nature, Nausea fuses its influences into a singular voice.
Condemned to the System distinguishes it from thousands that wish to be like it by maintaining a high degree of internal contrast, dialogue between riffs, and compelling tempo changes in songs that develop from a central conflict and by doing so avoid the dual extremes of riff salad and endless loop that make many minimalistic albums as boring as listening to a diesel engine idle. Instead, these songs launch into verse chorus pairs shaped around a central conflict with discursive and transitional material allowing the central loop to take more form. Grindcore-style layering of riffs and instruments gives these songs additional power.
For punk purists, there may be too much emphasis on muted chords used to end phrases, and for metal purists, there may be too many straight-up punk riffs of the 1970s style, but when looked at from a distance, the singular voice of this band emerges. Tempos stay high and vocals incoherent, keeping the guitars and drums as the center of the band with guitars leading and drums producing a pulsing violence behind. Avoiding technical playing entirely, Nausea focus on paring down their songs until a unique form emerges, then playing it with full intensity. The result is an album of short glimpses of life portrayed with the manic intensity of a paranoiac on a four-gallon coffee break, capturing the alienation of punk without self-pity and the willpower of metal without posturing.
Tags: Grindcore, Hardcore Punk, nausea, punk, willowtip