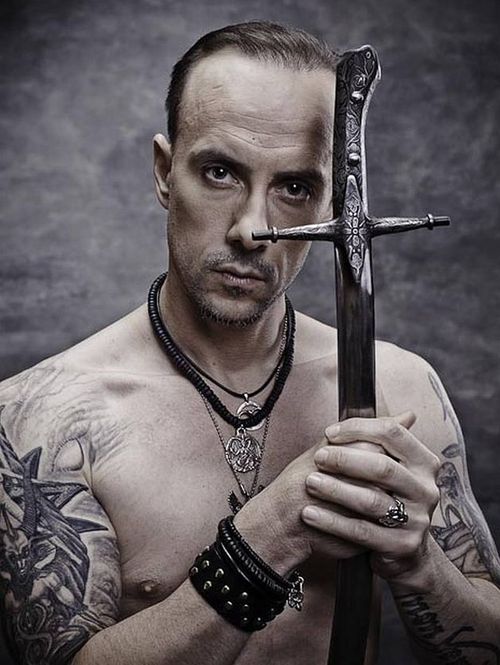 Behemoth frontman Nergal came out against what he termed "Radical Islamists" in a recent interview conducted after a Rammstein concert in Berlin was evacuated due to a terrorist threat.
"Well, I don't really see it in these categories. I mean, we're all gonna die sooner or later, and I definitely don't wanna die, so all the prevention is very much needed and I support that. So as much as I'm disappointed that I couldn't see one of my favorite bands, I think all that had to happen happened, and that sucks. But security comes first and health comes first. I mean, this is the times we live in and we have to learn how to deal with that. We should do something about it, you know what I mean? Just use some effective tools to stop that kind of stuff. I don't know… I'm not a politician. I don't know what. But I wish this will stop soon, which is probably just wishful thinking, because we are at war, Europe is at war, the civilized world is at war with radical Islamists, and that's a fact."
Nergal is right of course. Western civilization itself is at war with fundamentalist Islam whether leftist-controlled media or governments wish to acknowledge it or not. "Islamist" is just a politically correct term for fundamentalist Muslims. Islamic apologist Western academics call the philosophy of those Muslims who want an Islamic theocracy or for Islamic sharia law to be political law "Islamism". This is bullshit newspeak. Nobody would say card-carrying communists believe in "communismism" as they want to institute a dictatorship of the proletariat; they are just communists.
Almost all Muslim majority counties have religious dogma above secular law or lean towards it so they are all technically "Islamist" states or becoming so as fundamentalist Islam is inherently political as opposed to Christianity (and its neo-Platonic precedents) which divided the spiritual from the temporal from the very beginning when Jesus said "Render unto Caesar the things that are Caesar's, and to God the things that are God's. "Islamists" is such just leftist academic newspeak. Islamic religious dogma, taboo, and fetish holds sway over most lands between Morocco and Indonesia.
Saying that fundamentalist Muslims who follow the Koran to the letter as they believe it is the exact words of Allah transmitted to Muhammad which came out of Muhammad's mouth in the dark ages are somehow not Muslims is just plain wrong. They are Muslims, just puritanical fundamentalists ones who tend to want to recreate an imaginary fantasy version of the dark age world that Muhammad and his first followers lived in as they imagine that was the purest expression of Islam and will somehow put them closer to the divine, make them more holy, or get them more "virgins" in paradise. It's useless to speculate upon their fantastical reconstruction of the medieval world of a mostly unremarkable to his contemporaries desert merchant turned warlord that are based upon fantastical interpretations of hagiographies written well over a century after his death.
With their fellow Bible-thumping Christian fundamentalists and ultra-orthodox Jews want to return to imagined, purer pasts too, Islamic fundamentalists are willing to kill millions for it. This puts their mass psychosis as a sort of global Khmer Rouge in that they are willing to kill everyone and burn everything down in order to recreate their own imagined theme park version of medieval empire from scratch atop the ruins which can never work but they will try to do it anyway as they are delusional religions fanatics.
Nergal seems to acknowledges that these guys are dangerous and must be stopped. He is just the leader of a mediocre metal band. Western politicians rule the states Muslim fundamentalists want to destroy yet constantly pander to them instead of their own nations despite nominally ruling nations states. They refuse to do everything in their power to make sure members of their nations and peoples are not killed. They refuse to protect their own people in the name of political correctness. There is damn good reason Poland where Nergal lives has had no problems with Islamic terrorism or migrants committing mass rape. Japan and Hungary do not have these problems either on account of their logical immigration and visa policies.
Western politicians should take heed and actually do their jobs as the rulers of their nations. Western populations need to realize that these Muslim radicals are not like them and need to go for their own safety. Anything else is the same as staring down a tank and thinking you will win the fight with its crew as you can squint like Clint Eastwood. Anyone who cannot physically protect their own people is no true legitimate republican ruler ruling in the name of the nation despite the vote tally and whatever the mob "writes" on their ballots. Andrea Merkel, Sadiq Khan, and Theresa May are nothing more than newspeaking fifth columns willing to sacrifice their own people to appease foreign barbarians who should be kowtowing before them not out of respect but out of fear. Past American presidents Bill Clinton, George W. Bush, and Barack Obama were no philosopher-kings; they were kleptocrats like Eastern European oligarchs, just slightly less brazen in their theft.
Tags: behemoth, christianity, islam, mainstream metal, metalcore, modern metal, nergal, poland, politics, Rammstein, Religion, terrorists