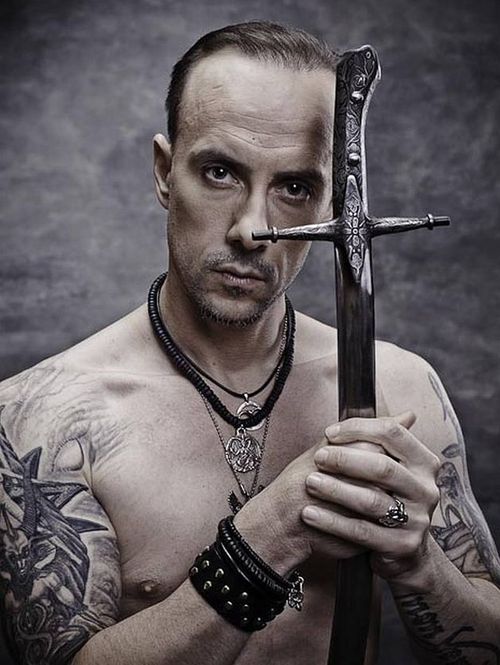 Behemoth frontman Nergal came out against what he termed "Radical Islamists" in a recent interview conducted after a Rammstein concert in Berlin was evacuated due to a terrorist threat.
48 Comments
Tags: behemoth, christianity, islam, mainstream metal, metalcore, modern metal, nergal, poland, politics, Rammstein, Religion, terrorists
If you like anything, you hate what destroys it. The worst are things that destroy it from within. These usually pretend to be it, then use it for their own purposes, corrupting it. Like a cancer or disease.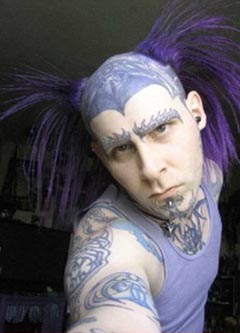 The best example in our time of course is the hipster. The hipster is the eternal party of one: he or she does everything to make him or herself look good to others. They "like" music because they want to look like the image of that music. They then have to be a very big deal, so they make their own art or music which is shallow and surface-oriented, but they trick it out to make it look cool.
In metal, we have the equivalent. They come in many forms. Some like to think they're smart, so they like dumb kiddie music tricked out like prog rock. Some like to think they're cool, so they like angry pointless three-chord bands with weird names and gimmicks. Some like to be political, so they pick bands that are anarchists or Nazis. They're not thinking about the music; they're thinking about how cool it makes them look. The best music to make you look cool is basically the same crap you get on MTV, but with a cool image. They are a cancer on metal.
And they have some favorite bands. Not coincidentally, these bands are the worst depthless and pointless stuff to hit metal. Note bene: This list is about music I hate, not people I hate. Some people whose music I like hate me, and some people I hate make great music. Some people who I like also make terrible music. I can only tell it as I see it and hope the pagan gods sort out the fracas.
Here's the list:
Dethklok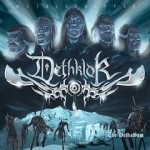 How can you hate a cartoon? It's supposed to be funny. It makes fun of metal's weaknesses. Ergo, by the passive-aggressive inversion, if you dislike this you're afraid to laugh at yourself. And who likes someone who can't laugh at himself? Except that joke bands have always been stupid, with the joke/hype/trend coming before the music, and Dethklok is no exception. Recycled riffs. Moronic pop song structures. TV commercial jingle-like melodies. And bad guitar playing that dumbs metal down to MTV levels. Let's turn it around on them: who has a need to look like they can laugh at themselves? Why, people who cannot, of course. But they don't want you to know that.
Cannibal Corpse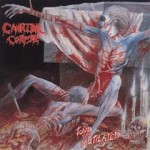 When I was a wee liberal, I never thought much of Cannibal Corpse until I read their immensely misogynistic lyrics. Then I decided to hate them. Upon reflection, however, what I really hate about this band is its falseness. They studied metal in the early 1990s, and came up with a pre-chewed version. Taking their style from Suffocation, and their songwriting from Malevolent Creation, they bashed out these simple hymns and instead of having an idea behind them like "only death is real," they just tried to be offensive and gross. How junior high school! Even more, they have gotten more repetitive and grind-you-down-with-simple-stuff as they years have gone on. I couldn't hate this band more. But, having met them and seen they are nice intelligent fellows, my only conclusion can be that this band is a pure money-maker — and they about admitted as much.
Opeth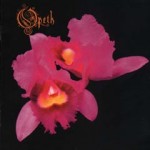 Life isn't fair to you. You have few friends. You haven't succeeded at anything, school or otherwise. Even your parents think they consumed too much Bisphenol-A before conceiving you. But you've found a new weapon; you're going to show everyone you're better than them. Enter the fake progressive rock band. Opeth take very simple songs and dress them up with prog rock lite flourishes, and "unexpected" changes like ZOMG going from acoustic to distorted on the chorus, because they know that all you low self-esteem cases want a reason to seem smarter and more profound than the rest of us. Well, now you have it. Opeth "sounds like" prog even if it has none of what made prog great: real musical development, song structures that build upon themes instead of being random, and truly mindblowing chops. Instead, you get watered down Rush riffs and random songs, all with a lot of guilt and bleeding-heart sympathy because they, Opeth, know you are a loser. Stop comparing homosexuals and Mac users to Opeth. It's an undeserved insult to homosexuals.
Meshuggah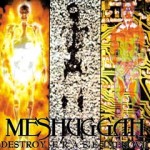 I was talking with a Texas technical deathgrind master and he wrote a formula for me: Meshuggah = lots of clueless fans x lack of musical knowledge. If you have played guitar and learned theory, you know how trivial this band is. It's basically a jazz percussion approach to metal rhythm guitar. Lots of offbeats within offbeats, if you know what I mean. No melody, no song development. In fact, song structures are linear in that they follow the sub-division of beats to a riff, expanding over time in a circular fashion. It's really boring. But if you want to seem like you got the ultimate in technical metal, you'll think you're really cool for liking this distracted, random, artless band. Same critique applies to Necrophagist. They both attract people who want to be cool and smart, but have no knowledge of how the world works, which is why people are Meshuggah fans for exactly two years and then go on to liking Deerhoof and Yoko Ono.
Cradle of Filth
What's the best new thing? Something that's the old thing… but "sounds" new! You can make anything sound different with different production, playing at different speeds, using black metal voices or more distortion. And so if you take Iron Maiden, throw in some fast melodic death metal riffs, but keep it nice and tasty pentatonic, you'll have the perfect product. People can be undercover conformists. They can look like rebels for listening to this angry sounding music, but underneath it, there's that same old happy Iron Maiden that millions of people the world over like. Cradle of Filth is the perfect product and millions bought it, then immediately forgot them, to the point where you don't hear about them at all. But this was a huge trend and basically boring music with a lot of drama surrounding it.
Ulver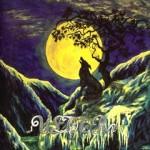 In theory, I would like this band as they have a formal background in music and clearly know theory. However, they have no souls. They made the plasticine "Nattens Madrigal" by imitating black metal bands, but playing indie rock songs in the black metal style. Sweet, twee, poignant, ironic melodies and pop song structures defined that CD. Ever since then, Ulver has made a career out of being "different." They make electronica that sounds like an angrier version of all other electronica! They make concept albums that sound like two indie rock CDs with the lyrics re-written! They make bold public statements and image changes like Bono of U2! What they don't do, however, is understand metal and what makes it great. Instead, they try to make metal into the genre they belong in, which is indie rock, and dumb it down accordingly. Again, conformity disguised as non-conformity, because if you tell everyone you're a non-conformist, you can't possibly be a secret sheep, amirite?
Necrophagist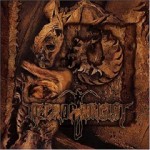 Musical illiteracy is a ripoff musician's best friend. People do not understand how melodies should develop over the course of a song, and how technical playing without a goal creates chaos and fragments your consciousness, not builds on it. Necrophagist play melodies, all right. They play short blasts of melody over and over again, very quickly. Then the song jumps to something unrelated and obviously "different." It's like a sampler plate at a restaurant, a little bit of everything so you don't have to choose what you want. Then it jumps back. And back again. And then it's over. The vocals are like the chant of an auctioneer. The riffs are advancing guitar exercises. Drums are what you'd expect from a failed jazz drummer on tons of meth trying to cover Nine Inch Nails. The end result? A lot of distracting, directionless crap. But people like it because it's more technical than what you are listening to, therefore they must be smarter. QED, muddafugga.
Baroness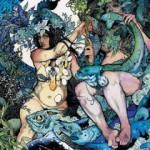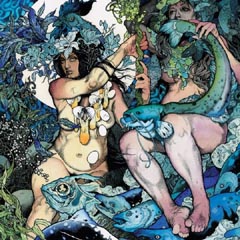 If your douchey alt-rock band fails, throw on the distortion and play really slowly with obvious stoner themes. Now, thanks to the magic of record company marketing, you're the latest metal trend! Work hard before your 15 minutes (or 18 months, at which point all your fans get promoted to head waiter) of fame evaporates. You'll make money by making them feel like they've discovered the one secret rebellion that will really upset their parents. It's like a giant tribe of stoners, descending on the world, man. They're going to make everything right or at least feel all-right. Do you realize you're listening to the same sad crap your grandparents grew out of in the 1970s?
In Flames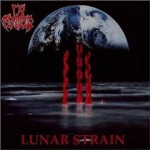 First there was At the Gates, who made The Red in the Sky is Ours, and blew us all away. Then came black metal. Then came Dissection. Then someone wondered what would happen if you took Dissection and dumbed it down, made it a little more like regular rock 'n' roll, and claimed it was new and exciting. I guess that person was a genius because people still take In Flames seriously, although at the time their first CD came out metalheads universally viewed them as clueless, wimpy and latecoming carpetbaggers. These guys are ripping off Iron Maiden on every album. They get away with it because their fans want to think they're new and fresh and evil, not warmed-over 1978 heavy metal. These retreads from the mid-1990s keep puking out the crap and for some reason, people still discuss them.
Rammstein
Once there was a band called Ministry. They realized that no one had done IDM with guitars yet. So they made this style of really simple metal/punk/rock with industrial beats and weird background samples, and a huge audience went crazy for it. The same year, Nine Inch Nails made an album that was equal parts dance and hatred, with lots of keyboards and some buzzy guitars. Ever since then, people have been trying to recapture this audience because they're still out there. Rammstein is the industrial hard rock version of Mickie Krause, with a heavy dose of Tool in the backdoor. They like to be shocking. It's really a tiresome play that happens every generation as kids try to shock their parents and teachers. But you can't shock the world at large because it doesn't care. It's more apathetic, cynical, nihilistic and cruel than any candy-industrial rock band is going to be. So Rammstein are in the big picture like greeting cards. They tell you a little bit of truth, put some flowers and kittens around it, and you pay a 1500% markup and go home happy, but confused. Just go listen to Ministry already.
Cynic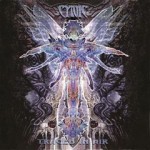 This band started out really well with a solid demo that sounded like it was one third speed metal, one third death metal, and about a third jazz fusion. No problem; we all want to be Atheist. But then immediately the neurosis started. First they tried to get more fruity sounds in their instrumentation, then they added the harmonized vocals, and finally, they just admitted they didn't want to be death metal and quit, after a decent first album, Focus. Then in 2009 they decided to really ruin their reputations except among morons. They piled together a bunch of jazz cliches and metal cliches, and threw them at each other, then overplayed the rest. This is because they know their fans know little about music but want to seem like they do. If you take a few guitar lessons, you really want to show you've got that knowledge, so you start listening to Big Important Concept bands and genres like jazz, which is sort of like degraded classical music for people who need ideas pre-chewed. Cynic fans like to act outraged that anyone cannot see the greatness and complexity of Cynic, and use that to imply that the rest of us are stupid, when if they took the time to tab out these songs, they'd see that they are random bits stuck together with excessive guitar licks.
Wolves in the Throne Room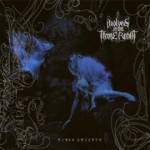 You're at home listening to your new outrageous indie rock CD when your Mom comes home and catches you. It turns out she has the same CD. In the car. She and her friends listen to it, your Dad likes it, even your grandfather thinks it's OK, because indie rock is the same crap they've made since 1952 or so, just with more wailing and self-pity (and minor chords). So you storm out of the house thinking, "I'll show them!" You go to the record store and decide to skip past all the music for healthy people, you'll get metal. And then you find Wolves in the Throne Room. It's like that outrageous metal, but it's safe. It contains safe moral opinions that people at your church and Democratic fund raiser would agree with. It's basically indie rock, but they play it like it was black metal. And it's totally boring, so you can have it droning in the background while you wonder if anyone ever anywhere has suffered as much as you have.
Boris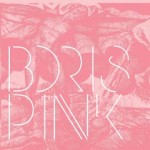 Wait — it's Yoko Ono! No, it's Deerhoof! No, it's another chick wailing her head off with the coordination of a trisomy 21 patient. She wants us to think this is profound and progressive and new because normally, people don't try to repackage SUCKS as SUCCESS. But that's her gimmick, and the gimmick of most modern art. This is unusual because it's illogical. If you don't understand it, you're little people — fetch me a sandwich. Only the enlightened pure and true understand our indie rock that we play (occasionally) as if it were black metal. Nevermind that black metal already existed. We want to remake it in our new and improved style. Which suspiciously resembles normal indie rock, but did we mention, there's a chick wailing like a burnt Down's syndrome kid? The fans can't tell the difference because they learn to play guitars and basic music theory, but never think about what gives music meaning, because that would require they look into their own souls. And you can't look into your soul, and still think you're the whole world. Hipsters love this music because each one of them is a party of one and the rest of the world just doesn't exist! So they call it brilliant. On and on, South of Heaven.
Sunn o)))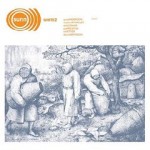 Stephen O'Malley is a fantastic person, a great artist, the world's best stoner and truly, an insightful individual. However, he sold his soul to the devil with this hipster project. If you live in Austin, or are intimately familiar with the apps on your iPhone, this might be for you. It's concept art. That means that they think up an idea that would be unusual, and make it in musical form, even if it's boring, because it has symbolic value that us peons cannot decipher because we have tiny peon brains. So when someone plays a guitar really slowly for ten minutes and never develops a song out of it, you either get it because you're a genius, or you're an intolerant backward moron with a peon brain. They even get funky and throw in "found sounds" and sometimes have an orchestra show up and try to riff on the two notes allotted for each song. The word "sophomoric" describes people who take a little knowledge and use it to pretend they understand the world. It also describes all Sunn o))) fans.
Pantera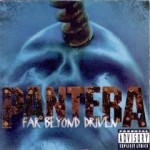 We've saved the best for last. Rocket back to the late 1980s with me. Your hair metal band just failed because you look gay even to homosexual rights activists, and not in the good way. In the supersonic stupid way. You're out of money, and this band named Metallica has just raised the stakes for metal bands by being harder and faster. They're harder and faster, while you're prancing and pouting. So what do you do? Turn that fear of your masculinity outward, and become a tough-guy version of Metallica. This is what Pantera did with their first "real" album, Cowboys From Hell. Metallica riffs in simple songs with lots of 'roid rage posturing. It got worse after that as Pantera added more trends to their faux metal charm bracelet, dabbling in death metal and blues rock, until their music ended up a mishmash of completely random influences. People like this band because it's a good introduction to basic rock guitar. They can understand it, and it also appeals to their wounded masculinity. If you buy a Pantera album, the thinking goes, you'll become more tough and angry like Phil Anselmo. People from the real world know that's not true, which is why most of Pantera's fans are skinny teenagers trying to figure out which fraternity will be most likely to help them score someday.
There you have it: a catalogue of fail. Or rather, fail that is highly praised by those who know not much of anything. Naturally, products designed for idiots that make idiots feel like geniuses are big sellers, so you'll have to suffer seeing this bands around for a while yet. But as time goes on, it's amazing how the crap gets filtered out and the really powerful stuff endures.
No Comments
Tags: Baroness, boris, cannibal corpse, cradle of filth, cynic, dethklok, in flames, meshuggah, necrophagist, opeth, pantera, Rammstein, sunn o))), Ulver, wolves in the throne room