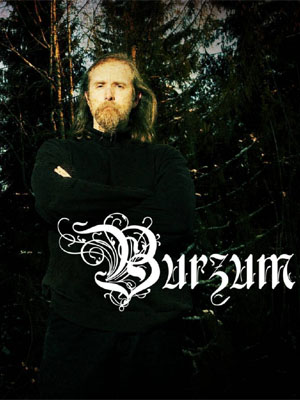 The semi-reclusive Varg Vikernes, sole composer of Burzum, has announced his plans to release a film and a new role-playing game (RPG). As part of the film project, he has revealed a new track designed to act as part of a soundtrack for the film.
As if influenced by some of the non-black-metal soundtrack material from the film Until the Light Takes Us in which Vikernes, as in Lords of Chaos, the most in-depth story of black metal before it, Vikernes opts for a down-tempo single guitar track with no distortion.
The result utilizes a slow and gentle sweeping arpeggio behind which lower notes direct the evolution of the track, much as happened with the countertheme in "Rundgang um die transzendentale Säule Der Singularität" from Filosofem. As the song goes on, these layers interact to push change into the main theme, not in the electronica method of circular layers, but the metal one of a narrative expanding from within itself.
It is hard to tell if this is the type of material that will be on the forthcoming Burzum album Sôl austan, Mâni vestan. While many consider the "keyboard albums" among the band's best output, a mixed-medium album could be interesting. While this new track has one foot in that world, it also has one foot in the more audience-geared world of the last few Burzum black metal albums.
Tags: Ambient, Black Metal, burzum