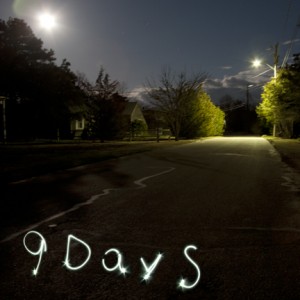 Strangelight, a new nu/alt-metal/indiemetal/metalcore/drone band comprised of members of Made Out Of Babies, Thursday, Red Sparowes, Pigs, United Nations, Goes Cube, Mussels and Kiss It Goodbye, will release its debut EP 9 Days on October 1, 2013 on Brooklyn hipster label Sacrament Music.
Written and recorded at vocalist Brendan Tobin's own Ice Cream Audio in Brooklyn, New York in just nine days (hence the title), 9 Days aims to be a low-pretense version of the music presently in vogue in the hybrid metal/indie scene.
While their past and current bands share little in common, Strangelight — comprised of Tobin, Cooper, Kenneth Appel, John Niccoli and Geoff Rickly — focuses on the modern indie/metal hybrid ideal of jarring music that is also melancholic and self-indulgent.
But here's where it gets interesting. The press release reveals the roots of indie/metal:
Drawing heavily upon DC visionaries, Amphetamine Reptile destroyers and Touch & Go noisemakers and named in honor of a track off Fugazi's last record, The Argument, STRANGELIGHT offers up all the signature makings of an early '90s Dischord band
DeathMetal.org has consistently offered up the idea that post-Minor Threat band Fugazi, along with Rites of Spring and Jawbreaker, provided the post-punk basis to all modern metalcore, drone, nu-metal, alt-metal, indie metal and tek-deth.
It's good to see that a band such as Strangelight, which contains influences from foundations of the nu-indie-metal scene such as Red Sparowes, Pigs, United Nations, Goes Cube, Mussels and Kiss It Goodbye, in addition to more recent offerings Out Of Babies and Thursday, acknowledges this fundamental influence.
9 Days Track Listing:
Split And Divide
Mosh Party
High Five Hailstorm
Tiers Of Joy
Xmas
White Feather
http://www.youtube.com/watch?v=ajrCZJgwoh4
Tags: drone, fugazi, goes cube, indie metal, kiss it goodbye, metalcore, mussles, nu-metal, out of babies, pigs, red sparrowes, strangelight, thursday, united nations