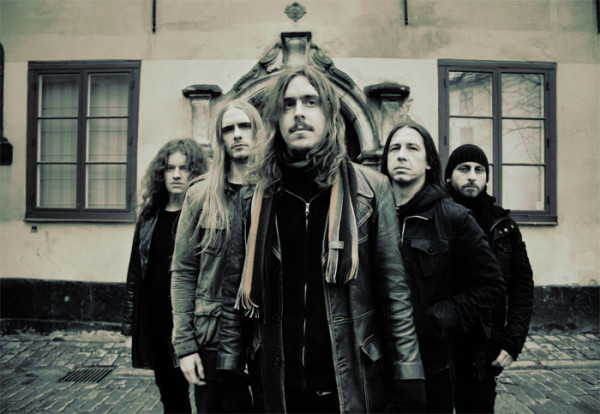 Heavy metal music gets a bad rap, not just from people who dislike it, but from people who claim to like it. The problem is that criticism draws attention to the speaker, so there's no better way to stand out than to stand up and say, "All of this is wrong!"
While some critics of the current way are motivated by a desire to create useful change, most people are motivated by self-interest and change for change's sake, which lets them seize attention and/or power. Opeth's frontman Mikael "Mick" Åkerfeldt recently attempted such a power grab.
His statements, recorded in a Metal Hammer interview via Metal Injection, are harshly critical of metal but suffer a gigantic logical "plot hole" that makes them totally nonsense.
First, here's Mick's statements:
In metal, evolution doesn't seem to be that important. I think most metal fans just want their Happy Meals served to them. They don't really want to know about what they'r getting.

For a while, I thought metal was a more open-minded thing but I was wrong. Maybe it's different from country-to-country. Don't get me wrong, I love metal, but I'm also open-minded.

I admire some bands that do the same record over and over again – I wonder how they don't get bored! For us, and Anathema, it seems impossible for us to stay still.
Take a quick glance at that last paragraph. Therein is the point of this whole diatribe: he wants you to like his album. Summary: Our record is totally different and unique, everyone else is bad, buy our record.
Then let's look at the first paragraph. He says something nasty, which is the "Happy Meals" comment. Happy Meals are not just soulless junk food, but they're also for kids. He's saying you're being spoon-fed baby food.
Then Mick makes some accusations:
[Metal] "evolution doesn't seem to be that important"
"They don't really want to know about what they're getting"
Metal is not "open-minded"
Other genres are "open-minded"
Metal is boring because the albums by the same band are similar
His assertion that metalheads "don't really want to know about what they're getting" seems to make zero sense in a world where people download albums before buying them, or at least hear them on YouTube or via label-sponsored streaming on SoundCloud. In fact, metalheads have always wanted to hear the album before buying, even when they had to do it with CD players and headphones in record stores (as in the 1990s). It seems as if metalheads are picking albums for reasons that Mick just doesn't understand.
It's good to ask ourselves if the words he's using mean what he thinks they mean. For example, what does "open-minded" mean? Does it mean you listen to something, experiment with it and reject it? Or that you include it in the album? On one extreme, "open-minded" means you never throw out an idea if it's unusual. That obviously makes no sense. On another extreme, "open-minded" can result in you making very similar music if you reject other stylings for logical reasons related to your intent in making that music. For example, if I'm writing an opera about the downfall of a dynasty, including a sudden burst of cheerful carnival music might be completely inappropriate and defeat my purpose in writing that music.
This leads us to the biggest point here, which is that Mick is playing definition games. Without similarity, a genre doesn't exist. We can call things "heavy metal" because they're more similar to each other than they are to other genres, or because they have certain central tenets that correspond to beliefs. For example, that dark angry music should be "heavy," which usually means distortion, minor key, complexity, unusual twists and turns. Or that the genre should use riffs in ways unlike rock, blues, jazz, etc. Or that its riffs should have an internal dialogue, as death metal does, which cause the chromatic equivalent of melodic evolution.
Without that similarity, the genre doesn't exist. This is proven by Mick's own decision to incorporate other elements in his work. He has affirmed the genre by saying he wants to operate outside of it. This implies that he recognizes metal by its similarity, which makes his complaining about it seem ludicrous. Further, when he's saying that metal is "closed-minded," what he's really saying is that it doesn't include other genres in itself, at which point (somewhere) it would cease to be metal, as he has acknowledged his own next album will do. This is the gigantic logical "plot hole" in the midst of his statements.
We could turn his argument around on him and say that he is in fact the "closed-minded" one. If he has to turn to other genres, it's because he can't figure out a way to make variety in metal. In part, this may be because he has literally closed his mind to the possibility of there being variation in metal (and this usage of "closed minded" seems more accurate) and can't understand it or perceive it and thus, can't reproduce it. If he looks at metal and thinks that Demilich, Gorguts, Incantation, Suffocation, Asphyx and Varathron are all doing the same thing, of course he'll have to turn to other genres. He can't perceive vast musical variation within metal.
This perhaps explains a lot about Mick's band, Opeth. I first heard Opeth while standing in the Wild Rags store when Richard C. put a copy of Orchid on the stereo. Against his subtle advice — "it's OK, might not be your thing" — I bought it, and spent the next dozen years regretting it before I finally sold it off for book money. My perception of Orchid was that it was the work of a band that did not want to be a metal band, and that they had one primary technique, which was to play up the dynamic change between acoustic and distorted music. They were far from the first to discover this technique, which was later used by nu-metal bands in the same way Opeth used it, which was multiple times in a song to create a verse/chorus differentiation. Here's Death using a more tasteful version of the technique:
I noticed some similarities between Opeth and the Swedish bands who went before (Opeth was formed in 1990 by guys who had previously been in second-string Swedish speed metal and heavy metal bands). Swedish death metal had experimented with softer sounds before and the use of acoustic instruments, but had used them to atmosphere effect, instead of relying on a simple binary contrast. For example, check out this track from Cemetary which came out a year after Opeth was formed:
Another band that deserves a comparison to Opeth is Tiamat (formerly Treblinka, before they realized how that name could be mis-interpreted). Tiamat also did not want to be a heavy metal band, but a blues-hard rock band with a softer vibe like the English Gothic pop that was in vogue some years before. They had a very pop vibe and used acoustic guitars to set up contrast for crashing distortion as well, and also liked to incorporate lots of other genres:
http://www.youtube.com/watch?v=z6gYOh3SZL0
Opeth got famous not on their "open-mindedness," but rather on playing to the image they had for fans. The early Opeth propaganda coming out from the labels suggested they were progressive and that, while most metal fans wouldn't understand the complex and nuanced work of Opeth, those who could understand it would love it. If you're an underconfident teenager, this takes you from zero to "I know something you don't know" in four seconds. It's a win for marketing and you've probably already noticed that it's exactly parallel to Mick's statements about "closed-mindedness." Summary: Other people don't understand us, but if you like us then you're presumed to understand us and thus, you must be both able to appreciate greater musical complexity and open-minded.
As you can see, this whole kerfuffle is based in marketing and not reality. Opeth doesn't care about "closed-mindedness" in metal any more than I care about orphaned chinchillas in Williamsburg (no, I do… I really do). This is about selling you records by appealing to your damaged self-image and giving you a way of feeling better than other people. That's the same reason Opeth sold themselves as a progressive band despite lacking the melodic complexity, variable song structures, epic symbolism equated to melodic development and other factors of the original 1970s progressive rock bands. Opeth isn't progressive; this is progressive:
http://www.youtube.com/watch?v=amBqI4t6JE0
http://www.youtube.com/watch?v=cjC1t2i5wm0
And if you're actually "open-minded" and can see past the narrow expectations defined for you by other media and social forces, this is progressive death metal: