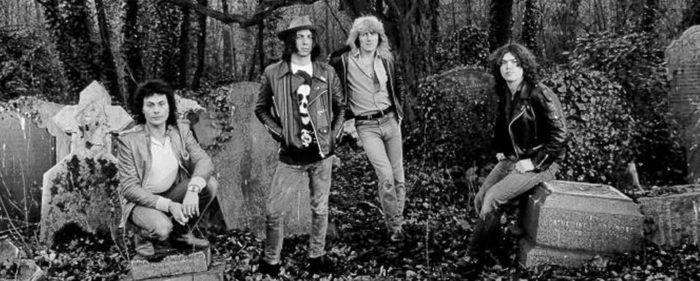 New Wave of British Heavy Metal Band are finally releasing their long in the words album, Room of Shadows. Room of Shadows consists of unreleased vocal tracks from deceased frontman Terry Jones that were supposed to be released as Never Quite Dead in 2014. Never Quite Dead was delayed, the instrumental tracks were rerecorded, and the album became Room of Shadows, which is to finally see release on Temple of Mystery Records on August 24, 2017.
Legendary NWOBHM/doom band Pagan Altar will release their long-awaited final album, Room of Shadows, on CD, cassette, and vinyl through the Canadian label Temple of Mystery Records on August 24th, 2017.

Originally set to be out in 2014 as Never Quite Dead, this brilliant album will feature exquisite unreleased Pagan Altar material with Terry Jones on vocals. Having being heavily postponed for various reasons, the recordings were completely re-done with Alan Jones on guitar, and former Pagan Altar members Diccon Harper on bass and Andy Green on drums.

The band, re-formed in 2004, was put to a halt in 2014 with the tragic passing of its beloved frontman Terry Jones, who had been bravely battling cancer for a year prior. The album will thus be released in homage to this true gentleman, who was well loved by his treasured family and fans.

Room of Shadows, which will feature artwork by painter Adam Burke, is certain to delight fans who enjoyed the band's previous timeless work with its epic riffs and enchanting, poetic macabre lyrics of olde.

Release party at Wings of Metal Festival
Alan Jones, Diccon Harper, and Andy Green – under the moniker "Time Lord" – will be paired with session members Brandon Radigan (vocals – Magic Circle) and Andres Arango (second guitar – Cauchemar, Metalian) to play a special release party/tribute to Terry in Montreal at the Wings of Metal show on September 9th, 2017.

Biography
Formed in '78 in Brockley (south London) by Terry Jones and his son, Alan Jones, Pagan Altar was at the crossway of '70s downer rock and what would become the NWOBHM movement. The band followed a much less-traveled path than the other bands of the scene, choosing to infuse their '70s rock and folk influences into occult-tinged heavy metal. They had originally released only a demo tape, which was reviewed in few fanzines of the time. They oddly never got any label backing, and the band folded until 2004, when they re-formed with much enthusiasm from their fans, who rediscovered their eldritch sounds. Alongside the likes of Witchfinder General, they were among the first to mix doom metal with NWOBHM. Room of Shadows will be their fourth and final album, but their legacy will reverberate for eternity.

A rare video of a 1984 live show was unearthed by Alan Jones for the occasion, which can be viewed at: https://www.youtube.com/watch?v=dBMhEcX-Q3o.

Pre-orders for Pagan Altar – Room of Shadows (TEMPLE-005) will be offered in early July at www.templeofmystery.ca.
Tags: comeback, Doom Metal, Heavy Metal, NWOBHM, Pagan Altar, temple of mystery records, upcoming album, upcoming release