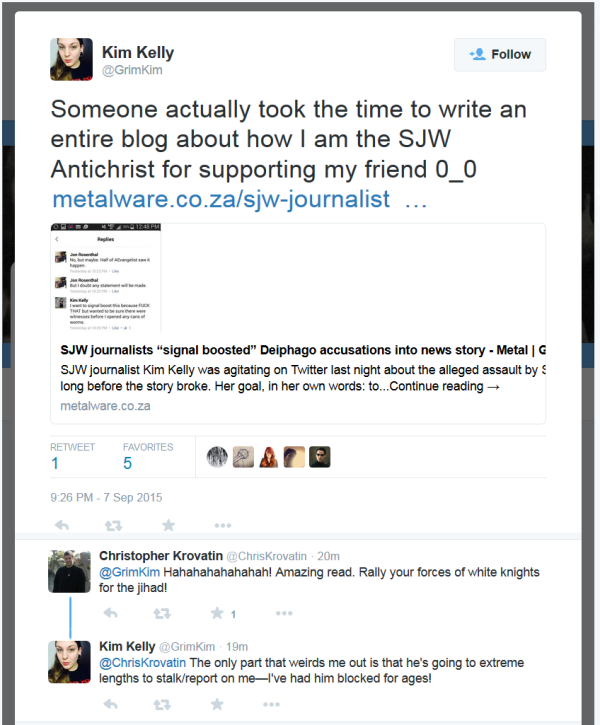 Kim Kelly, the SJW journalist caught faking stories for metal magazines, expressed outrage that DeathMetal.org would do basic research about her and publish an article forcing her to be accountable for her past statements and activity. You can see the full Twitter drama here including white knighting by internet tough guys. Notice how research becomes "stalking" when someone else does it, but it's "research" when Kelly does it.
Kelly, who has no criticism for her fellow Vice NSBM-wannabe-turned-SJW-journalist Neil Jameson, has made a career of using lack of compliance with SJW issues to tear down careers of musicians. That is, of course, after she broke herself into the business as PR flack for notorious provacateurs Anal Cunt. MetalGate — inspired by GamerGate — was the first coherent resistance to the SJW invasion of heavy metal.
It is typical for SJWs to be hypocritical. For them, ideology is social and also how they hope to attract an audience which will feel guilty for not listening to them, therefore will feel a compulsion to buy SJW propaganda, like Chinese under Communism buying the Red Book or even a Czech grocer putting a sign in his window. This is about audience, and replacing the metal audience with a new group, which is why SJWs get upset when called out on that. They are not here to bring accountability. They are here, like any other lobbyist or corporate group, to sell products. And they really, really do not want you to look behind that curtain.
Tags: censorship, gamergate, journalism, Kim Kelly, metalgate, neil jameson, sjws