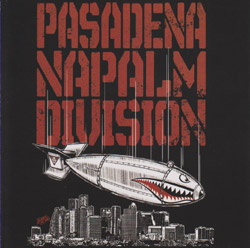 Pasadena Napalm Division – P.N.D.
This solid slab of "modern crossover thrash" tends more toward hardcore than 1980s thrash but shows the quirky influence of the three bands from which it draws members: DRI, Dead Horse and Verbal Abuse. Showing the evolution of metal since the 1980s, it has the tighter rhythms and more encompassing wall of guitars achieved with more precise tremolo.
In a nod to the NOLA music of the last two decades, it uses "riot vocals" where all band members chant and sing at once in infectious trope; from DRI it borrows the fluid rhythms and almost theatrical interruptions of song structure, but like later Dead Horse it tries to merge blues, rock, punk and metal into something more accessible. More like SOD than the original DRI, it features very much punk-influenced riffs that do not vary in shape or intensity as much, which makes for a more continuous listening experience. Vocal rhythms guide these songs which tend to be longer and more sociable in topic than the old thrash songs.
"P.N.D." improves on the technical precision (or lack thereof) of older thrash, and by mixing in the death metal influences, makes this music hit more like a linebacker than a cynical kid zinging one-liners over the heads of the Responsible Authority Figures (RAFs) nearby. It's good to hear Kurt Brecht when they let him do the vocal tracks alone, and he has lost none of his vitriol, but has more of a uniform delivery.
In fact, what makes this different from older punk and thrash the most is that it is more uniform in approach. Riffs are all strummed at the same speed and do not break for weirdness like DRI did. It's hooky, with the melodic chants dominating the listener's brain. The somewhat funky rock influence may turn off hardliners from the thrash days, but for listeners accustomed to newer hardcore, metal or swamp-groove metal this will be a powerhouse that may open their eyes to a wider world.