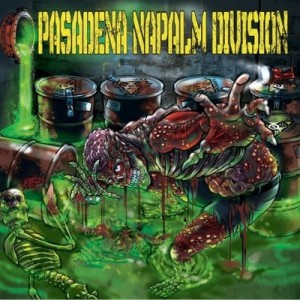 The wording above says releasing, not releases. There's apparently a bit of label-shopping and confusion as to when this interesting work will actually land. The good news is that when the new Pasadena Napalm Division (P.N.D.) full-length lands it will probably crush your spine.
P.N.D. is a thrash band formed of D.R.I. vocalist Kurt Brecht and Dead Horse guitarists Greg Martin and Scott Sevall, joined by drummer Ronnie Guyote. Formed in 2008, the band released an EP in 2010 which was greeted by enthusiasm from the fans.
Since this is a project band for Brecht, its schedule is unsteady and depends in part on when he's not busy with his main act D.R.I.. As explained in a recent article, much of P.N.D's output arose from times when D.R.I. was out of commission due to guitarist Spike Cassidy's health woes.
The album will be released on SF-based Minus Head Records, but the exact date is uncertain but likely April or later of this year. Since the band waited over a year to release the album while label-shopping, this means we're finally getting a glimpse into their 2011 output. Maybe this will spur them on to do even more.
Tags: dead horse, dirty rotten imbeciles, pasadena napalm division