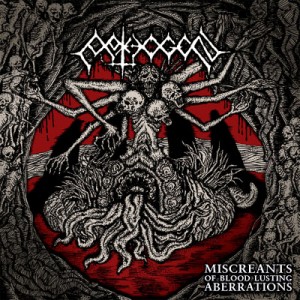 If you were to combine the full military power approach of bands like Krisiun or Angelcorpse with the catchy and slightly dissonant songwriting of Master, the result might be like Pathogen. This band has its own personality however which comes out in this battle-force release.
Miscreants of Bloodlusting Aberrations aims to be rhythmically compelling and to add some additional interest in its tendency to massage a maze of related riffs out of the midst of a riff salad so dense it would defy mapping. The result is like urban exploration: entering a building late at night through a forgotten basement window, and wandering in the dark with a flashlight and .45, until you find that one room that takes your breath away.
Pathogen hustle through songs that are a mix of death metal, heavy metal and war metal riffs driving toward a culmination in dissonance and chaos. Drums are mostly influenced by the speed metal bands of the mid-1980s, but vocals come from the recent school of high-speed rasp punctuated by deep gutturals. The result is very much a hybrid, but true to the spirit of its many influences and the genre.
Where this album gets confusing is that it is a riff-maze of familiar patterns and repeated types of themes, so it is best listened to as a kind of concept album formed of a snapshot in time when all of these different songs overlaid each other in concept and overlap in music. Infectious and warlike, Miscreants of Bloodlusting Aberrations captures the spirit of high-speed metal and gives it a unique spin.
Tags: pathogen, pinoy metal