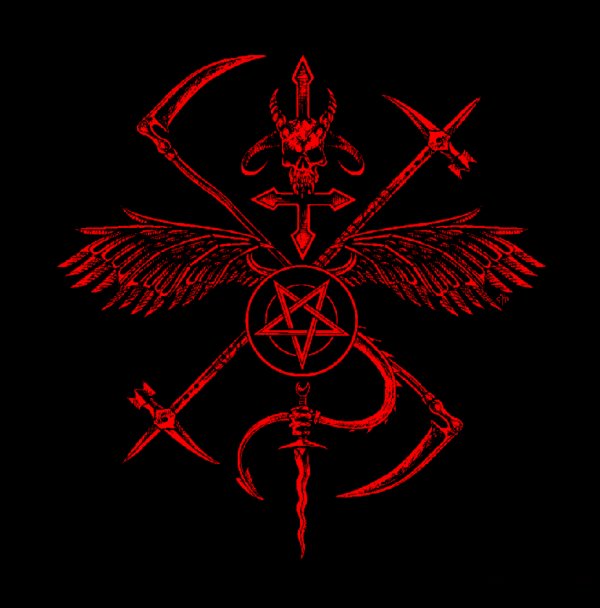 Ripping extreme metal band Perdition Temple (ex-Angelcorpse, Immolation, and Ares Kingdom) has released its latest blast of high-speed terror with "Desolation Usurper" from the upcoming third album of the band, Sacraments of Descension, due out sometime this year.
The unusual approach of Angelcorpse, intensified into finger-twisting technicality with Perdition Temple, comes from a combination of the intermediate years before death metal and black metal separated with the fusion of influences from technical death metal and complex hardcore.
Perdition Temple carries on the underground approach, eschewing the jazz/rock technicality based in harmony, and instead focuses on a torrent of fast riffs that develop themes through variations on a central riff pattern as it is challenged by spontaneous contrarian utterings.
Like a low-tech counterpoint, fugue, and progressive rock, this form of music ironically brings metal closer to the origins of technicality, in that it develops theme and complexity without trying to focus on instrumentalism, but also invokes the savage roots of hardcore and primitive underground metal by filtering out the mainstream influence.
The label released the following statement:
Although it's been five years since PERDITION TEMPLE's second album – 2015's The Tempter's Victorious, released by then-new label home HELLS HEADBANGERS – this seemingly interminable span between albums is par for the course for this band, for the year 2010 saw the release of the band's debut album, Edict of the Antichrist Elect. Back then, PERDITION TEMPLE began as something of a solo endeavor for scene veteran Gene Palubicki, co-founder of the legendary Angelcorpse. As years passed by and a second PERDITION TEMPLE album took shape, Palubicki assembled an elite cade of new members for The Tempter's Victorious, including his old Angelcorpse guitar foil Bill Taylor and, on vocals, Black Witchery's intimidating Impurath. While live assaults ensued with that lineup – with drummer Ron Parmer as the backbone, concurrently of Amon and Brutality – alas, more changes took shape in the TEMPLE and Palubicki has welcomed to the fold none other than bassist Alex Blume, a longtime member of Ares Kingdom and also Palubicki's bandmate in BLASPHEMIC CRUELTY.

Such lineup changes would prove dizzying for most bands, but PERDITION TEMPLE aren't like "most bands." For them, only iron-fisted death metal exists: no more, no less, straightforward but by no means simple. Blackened are their ways, and PERDITION TEMPLE continue their conquest with Sacraments of Descension. Picking up where The Tempter's Victorious left oft – literally wasting no time, as the album kicks in immediately, with no fanfare nor adornment – this militant 'n' malevolent tornado of souls consumes fully all who approach. The power-trio format is almost too perfect for PERDITION TEMPLE, as they peal off with precision one surging, contorting attack after another, their crush chaotic yet controlled; one could easily argue that Sacraments of Descension is the sound of the band at their tightest. No to be outdone, ever, Palubicki puts on a clinic of demented soloing here, his demonic six-string conjurings invoking a hysteria that would be Hell personified if not for the preternatural grace he displays across those very, bloodstained strings (he also assumes vocal duties again, as he did for Edict of the Antichrist). Of especial note is the album's production: Sacraments of Descension was recorded between September and October 2019 at Audial Warfare, Very Metal Sound, and M.A.D.F. Studios, with mixing & mastering handled by Jarrett Pritchard (1349, Goatwhore, Nocturnus A.D.) at New Constellation.

Completed by exquisitely sulfurous artwork courtesy of SLAUGHTBBATH's Daniel Corcuera, PERDITION TEMPLE have arguably delivered their masterwork with Sacraments of Descension. Partake and pay fealty to these barbarian warlords!