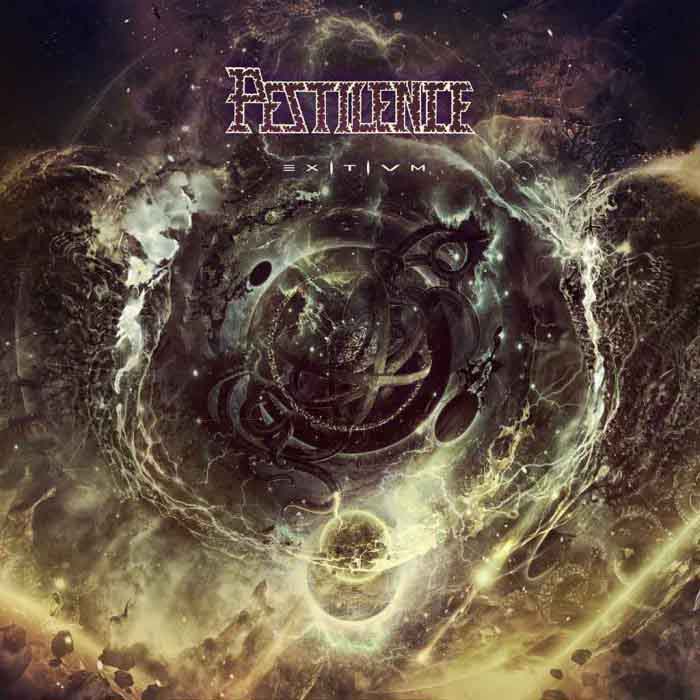 Exploring a modern side of metal that keeps one foot in the past, the latest Pestilence will draw comparisons to Testimony of the Ancients, but to my mind goes back to Malleus Maleficarum even more, balanced with metalcore, progressive metal, and jazz fusion.
Songs avoid the modern metal trope of depending entirely on the vocals, therefore building themselves around a simple vocal rhythm and then filling in the guitar and drums as adornments. This makes modern metal odious since, like most postmodern literature, it ends up being a display of technique and cleverness with no center, defaulting to a lowest common denominator.
Like Testimony of the Ancients, this new album drops immediately into the process of balancing a lead rhythm melody against precise but sparse rhythm riffing, borrowing from jazz a subtle offbeat and a tendency to use harmonic position to anchor its melodies. This gets us past the rock, blues, and basic metal feel where everything is in the same key and key itself is arbitrary, since a simple melody conveys the whole of the song except when it is time for a turnaround or final chorus.
Strategically, however, it resembles Malleus Maleficarum in that although the stream of riffs has been streamlined and trimmed, these songs use very similar techniques, so the listener becomes adrift in a sea of pieces that could be part of any song on the album. Modern metal approaches to rhythm and riff style accentuate this, not decrease from it.
On the whole, however, Exitium shows us one of the few triumphs of modern metal in that songs seem to have centers apart from being songs about being a modern metal band, and the restrained technicality brings out possibilities in this genre. It is worth a second listen.
Tags: metalcore, pestilence, Speed Metal