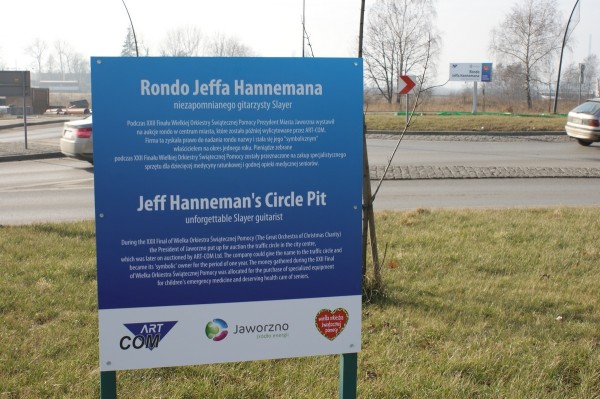 Last May, the metal community and the world lost someone who was arguably the most inventive innovator in modern music, a person who invented the tremolo-strum style death metal riff and song structure and many of the conventions of all metal genres to follow, influencing many within and outside the metal community.
Jeff Hanneman was more than a musical whirlwind but also a human being who left behind many who miss him, including bandmates, a wife, an extended family, and many of us who have benefited from his wisdom and spirit over the years. As often happens when someone truly great dies, the world at large did its best to ignore him.
Enter Poland. This lonely country, itself having suffered enough death and horror over the past century to launch 10,000 first person shooters, decided to offer up a roundabout such that its name would be chosen by the person who won an auction. Someone threw down the cash and named it after Jeff Hanneman.
The official sign says:
Jeff Hanneman's Circle Pit
unforgettable Slayer guitarist

During the XXII Final of The Great Orchestra of Christmas Charity, the President of Jaworzno put up for auction the traffic circle in the city centre, which was later autioned by ART-COM Ltd. The company could give the name to the traffic circle and became its 'symbolic' owner for the period of one year. The money gathered during the XXII Final of The Great Orchestra of Christmas Charity was allocated for the purchase of specialized equipment for children's emergency medicine and deserving health care of seniors.
Time for a pilgrimage, especially if Vader still play tunes from their first album. More information and pictures can be found here (in Polish).
Tags: jeff hanneman, poland, slayer