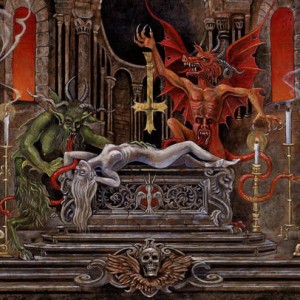 Demonic occultist black metal band Profanatica, also known sometimes as Havohej, continues its quest to demolish holiness with impure sexual abuse of the incarnate divine.
This legendary band have been active in many forms since the late 1980s, with founding member Paul Ledney contributing to Revenant, Incantation, Havohej and Profanatica as well as being an anchor of the true black metal movement in North America.
Thy Kingdom Cum will see release on Hell's Headbangers label in both CD and LP formats on November 26, 2013. This follows up to a series of releases following Profanatica's Profanatitas de Domonatia, which in 2007 marked the rebirth of this vital blasphemous cult.
The album can be pre-ordered and advance tracks heard on the label website.
Tracklist:
Ruptureholyhymen
Foul The Air With Blasphemy
Denounce Him
False Doctrina
Definite Atonement
Thy Kingdom Cum
Ropes of Hatred
Water to Blood
Tags: Black Metal, havohej, profanatica