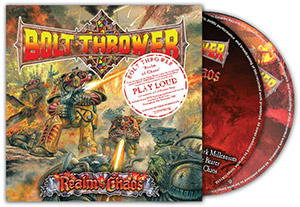 Bolt Thrower's Realm of Chaos album will be re-released by Earache Records on Monday 18 February, 2013.
This time around, it's been pressed from the master tapes in Full Dynamic Range audio, which according to Earache means the album is
at its optimum sound quality, with full dynamic range and in its highest resolution. No loss of quality, no compromise. To put it simply, this is, without doubt, the best sound this album has ever had!
Realm of Chaos was originally released in 1989 and according to our review it shows how the band's grindcore leaned towards the grandeur of death metal, making this album an amalgamation of the epic and the youthfully energetic.
The release includes a DVD of the Bolt Thrower performance at the "Grindcrusher" tour in Nottingham, where they played seven of the albums songs on 14 November, 1989.
Tags: Bolt Thrower, re-releases