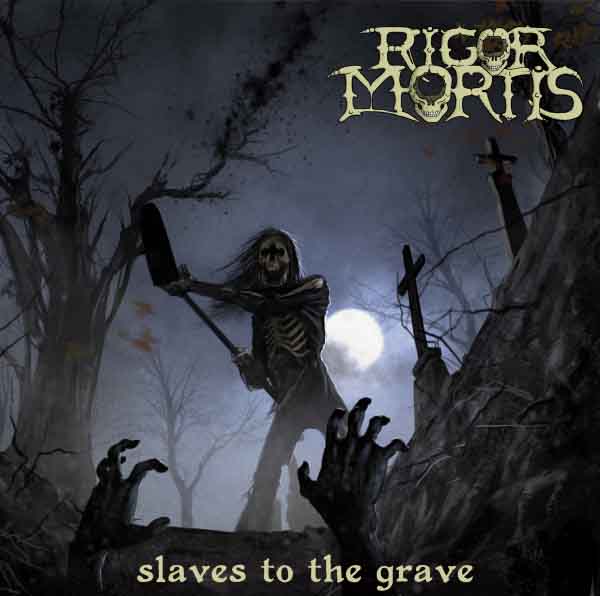 The job of a record reviewer embraces nihilism in a way most people will never experience. Much must be removed — nostalgia for the musicians who shaped much of your teen years, sympathy for a musician who died far too young, desire for metal to awaken from its slumber — in order to clearly analyze the music and answer the basic question all reviewers should ask themselves: if I were a casual to moderately involved fan, on a limited budget, would I buy this record?
With Slaves to the Grave, Rigor Mortis returns after a challenging history. The only speed metal band with death metal influences to get signed to a major label, the band unleashed Rigor Mortis after which band politics forced out the vocalist almost all sources agree was their best, Bruce Corbitt. The band surged forward and released its instrumentally most exciting material on the Freaks EP, but completely lost direction with Rigor Mortis vs. The Earth, which reflected the band members pursuing their individual directions and losing a cohesive sound.
Now after band members have spent time in Ministry, Warbeast, and Gwar, Rigor Mortis re-form to re-take the stage and carry on where they might have picked up after that first album. Stunned by the lugubrious death of guitarist Mike Scaccia, the band soldiered on with this crowd-funded album release, still facing its greatest struggle which is that "its strength is its weakness," and having many strong individual performers means finding direction and balance is a challenge. Slaves to the Grave takes the fast tremolo speed metal approach of Rigor Mortis and slows it down to give it the rhythmic approach of bands like Kreator, Sodom and Destruction which makes it very catchy. Into this, the band members drop varied influences from other music of the period and contemporary metal. This is not really a followup to the first album; more likely, it is an attempt to do what Rigor Mortis vs. The Earth tried to — modernize its sound and find balance between technicality and rhythmic hook choruses — but with the original lineup.
The problem with Rigor Mortis vs. The Earth is that, while it contained some of the greatest songwriting to emerge from this band, it was completely disordered, both as an album and as individual songs. Band members seemed to wander on stage to contribute their specialties, then vanish into the background as the band zeroed to a mean in order to preserve the integration of each song. With Slaves to the Grave, Rigor Mortis assert much more control over their work, but try hard to include all of their strengths. Vocalist Bruce Corbitt writes hook-heavy choruses that are highly motivational, where Mike Scaccia specializes in melodic guitar. Those two are in tension because guitar jams like to expand, where rhythmic hooks require keeping flying speed and then hitting it with dramatic tempo changes. On this new work, the band separate the instrumental bits from the song itself, creating a kind of "oasis" within the song arrangement where the guitar can unleash itself.
Slaves to the Grave takes on a number of influences. From modern metal, it inherits the trope vocals that chant in cadence with the guitars and drums in the style that Pantera (nice guys, but the death of speed metal through norming) picked up on and metalcore really took to the wall, but luckily this does not happen at full intensity very frequently. The band uses its classic technique of overloading verses so that they have two parts, a simple placeholder and a texturally more intense second half that prepares for the chorus. This gives the music more of a theater and lets the hook of the chorus integrate more with the song as a whole. Unfortunately, someone decided that mid-1980s German speed metal drums would be essential here, so most of the percussion emulates this style which not only becomes overbearing but is too simple for this music. A little Dave Lombardo influence here would improve things quite a bit. These songs fit together tightly like ancient walls and there are no random, rambling or irrelevant discursive bits, which shows the professionalism of this band.
If we went searching for a spirit animal for this album, it would probably be mid-1980s Iron Maiden. Many of these chord progressions and the general rhythms used resemble those from the speed metal years of Iron Maiden, but also, the arrangements of these songs mirror the tendencies that the NWOBHM band developed. Songs blast through verse-chorus pairs, work themselves up to a break, reprise their main theme and then launch into instrumental cool-downs. This balance allowed Iron Maiden to stay hookish but also work in the depth they knew would keep their albums from being essentially aggro-pop, and it worked for them for many years, so it is intelligent of Rigor Mortis to pick up this vein. Other influences are Testament and earlier Rigor Mortis itself, which is cited through similar but distinctively altered chord progressions and melodies. "The Infected" for example shadows "Die in Pain," "Poltergeist" shadows the break return in "Revelations" by Iron Maiden, and other fragments show up repurposed as new riffs. Unlike earlier works, the melody in Slaves to the Grave is built into the chord progressions, giving the songs more harmonic space. Scaccia takes advantage of this with numerous instrumental passages. These show a greater study of tone than earlier works, but lack the frenetic architectures of his lead guitar on Freaks and drifts closer to the rock, metal and jazz influences of Rigor Mortis vs. The Earth. This allows songs to slow down, expand a bit, and become more distinctive because they release less on pure rhythm and more on melody.
This album offers well-composed songs that straddle the line between the raw fury of early Rigor Mortis and the instrumentally-advanced but compositionally disintegrated material of its later works. The most death metal track, "Curse of the Draugr," and the first half the album deliver the greatest punch. The concluding ten-minute instrumental on the topic of Roman gladiators could perhaps be left off without damaging the album at all, since it is sparse in context and driven by vocals instead of guitar composition. The instrumental track sounds like the instrumentals from the later years of Death, but with less focus on pure theory and more on an emotional side to the music; metal fans will be lucky if future metal-jazz hybrids heed this direction. On the whole, Slaves to the Grave shows Rigor Mortis at its healthiest point in two and a half decades. For those who want the first album done again, it will not satisfy, but this will be more of a hit with melodic speed metal and technical metal fans.
Tags: bruce corbitt, mike scaccia, rigor mortis, Speed Metal