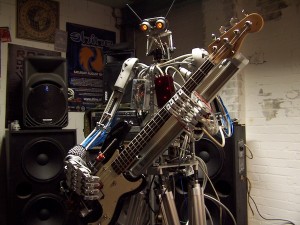 The robotic cover band Compressorhead recently played their first ever shows in Sydney, Adelaide, Perth, and Melbourne. Their mission statement is to overtake the world of meatbag (human) metal. These metal purists cover Motorhead and Led Zeppelin more precise than some of their human cover band counterparts.
Compressorhead consists of the guitarist Fingers with 78 hydraulic actuated appendages, bassist Bones, and four-armed drummer Stickboy.
According to their website there are no more shows on their schedule, but the novelty of this band will most likely continue. I would personally like to see them play some Nocturnus songs.
Perhaps we can envision a day when lackluster cover bands are replaced by robots.
Tags: Robots