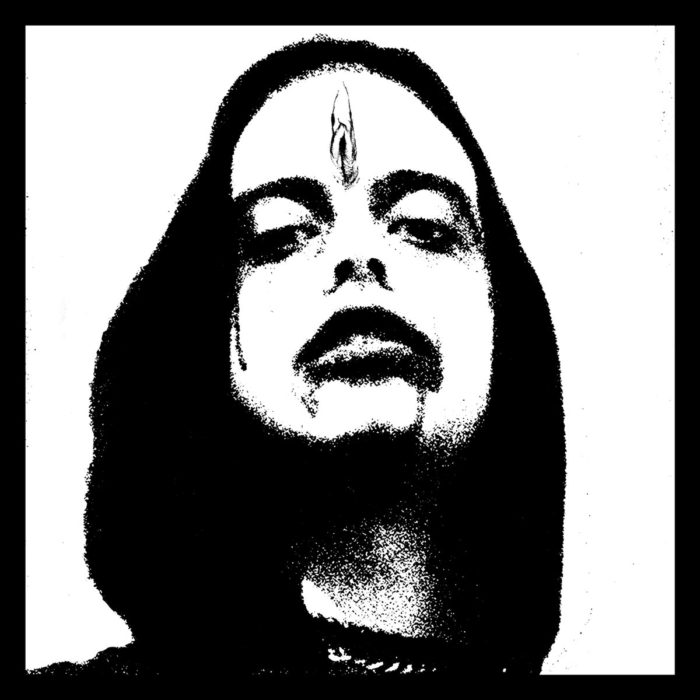 Article by Lance Viggiano.
Into the Cunt of the Witch is grainy fatalistic pap embellished with agonizing atonal voids where music should exist. When the haze clears just enough for a melody to become audible it possesses a character of passivity and reception but is always intensely grating in its pointlessness. The tired corpse of speed metal and heavy metal drags lethargically through chromatic sections that form the locus of this work. Lightly struck syncopated rhythms are relied too heavily upon and flatten into a sterile ticking that results in a pure time keeping effect not unlike a distraught prisoner tallying his cell wall; tracking his sentence until his song merely ends – a fair metaphor for the experience of this record. Individual songs are parts of four whole works and do not stand well on their own; ending abruptly without proper conclusions before jumping into the next section in a greater cycle. Vocals operate in two essential modes: an apathetic crooning within artificial caverns as well as a faux-distraught occult street preacher reminiscent of contemporary orthodox/occult black metal.
The experience is fundamentally noise however, as it amounts to peering into motifs without motives and communications without messages. Exemplary of the endemic fatalism of modern black metal, this release concludes that meaning is dead and we ought to join it in haste. In contrast, the peak of black metal saw the genre fulfilling the process of nihilism by adorning God's vacant throne with dismembered mythology culled from humanity's spiritual inheritance. Blliigghhtted, like so much of contemporary metal, reject value wholesale; failing as both music and as art. After all, if one rejects enduring and temporal meaning what motivation exists to create art that is anything more than a platform for platitudes and righteous indignation?
Into the Cunt of the Witch hemorrhages hysterical motifs and forgettable phrases tourniquetted with a transgressive aesthetic that suggests ideology before poetry. Frustratingly the work is deathly serious in its intent but tepid in its execution. Where this album comes closest to genuine expression is in those worn and weary laments of a broken spirit marked musically by pedantic drudgery. Death is merely a coping mechanism rather than the subject of this work as Life is both the conqueror and subjugator with the pleasure of a sudden and immanent annihilation allowing the artist(s) to function in this world. In that sense, Blliigghhtted craft another inversion of black metal culling a gradient of motifs from across metal's musical inheritance. Instead of assembling a pastiche of random but pleasing signals, the composers excise all feeling and place leaving them bare against the lashing drive of a stark purposeless cosmos.
Tags: 2016, Black Metal, Blliigghhtted, female vocals, hipster bullshit, Into the Cunt of the Witch, modern metal, sadistic metal reviews, women in metal