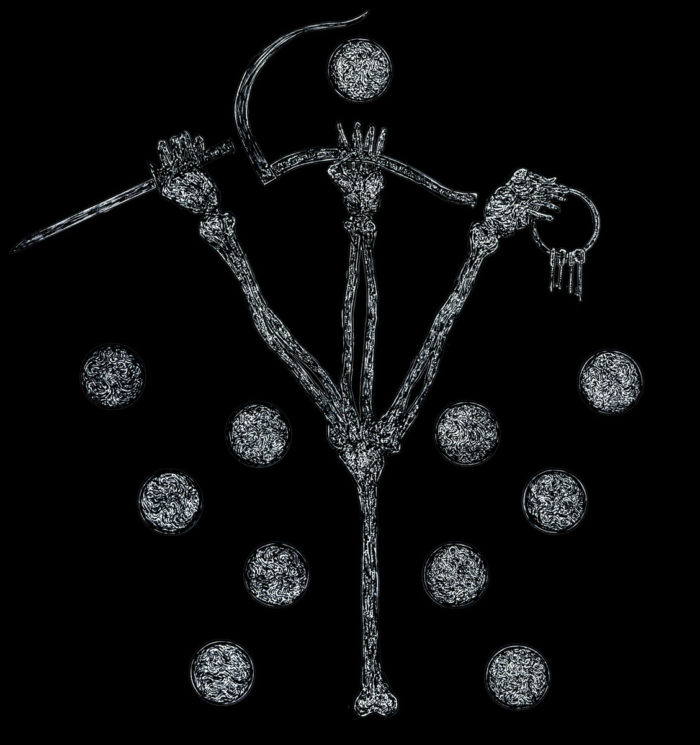 Article by David Rosales.
More Ghost Scooby-Doo music mixed with random Deathspell Omega retardation than cohesive and nuanced terror, Sovereign Nailing Shut the Sacrosanct Orifice presents yet another example of the many failures of modern black metal: pretentious in lyrical orientation, vacuous in concrete musical content, mediocre in the putting together of structures that form an intelligible narrative. The lyrics themselves, in any case, will appear cursorily written, superficial, and sensationalist for anyone that has delved semi-seriously into the subjects.
Needless to say, this is poserdom at its purest: musically, lyrically, and in intent, all the listener will find here is the intention to present the feeling an adversarial occultism without depth at any level of performance. Failing as a holistic product leaves us immediate option of evaluating this music on strictly technical composition terms. Unfortunately for Sovereign, like many of its ilk, this will only do their already flaky reputation a diservice. Seen from an even more stripped down vantage point, from that of materialist Marx-influenced art critique, there are some rescuable parts that can be appreciated for their episodic character, their variation of expression — especially because it appears to defy traditional order and convention. No distinction is made by materialists between superficial poserism and actual, game-changing defiance.
The metal hessian, like the traditionalist, would roast it for meeting structural solidity and its lack of inner value. The abstract nature of this last leads the emotionally-insecure indoctrinated zombies to try and cry out "subjective!" in desperation, but we have discussed the link and necessary connection between the concrete and the abstract. That we not take the time in each and every article to discuss it does not mean that we assume it without offering a rationale, but that it is more useful to present different cases and let the reader reference the few places where a more detailed discussion is taken up. The topic encompasses all of human nature and goes beyond the 'merely' musical, extending to everything relating to motivation, intention and action, meaning and manifestation, and the whole of human experience and interaction. To claim the impermeability between the 'subjective' and the 'objective' in music is to do so for every human endeavor, large and small, at any level, which I doubt most people are ready to do.
Tags: Black Metal, hipster bullshit, modern metal, Nailing Shut the Sacrosanct Orifice, poser metal, posers, sadistic metal reviews, sovereign