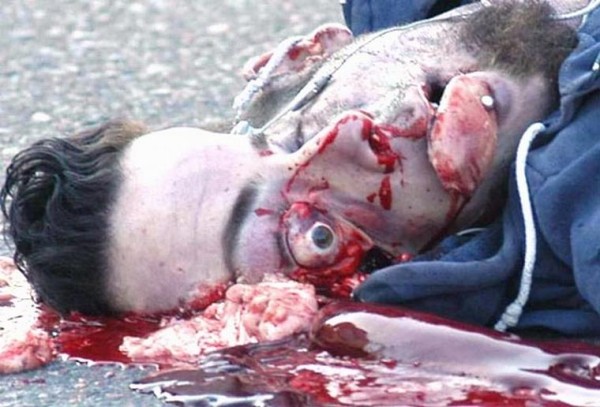 What are Sadistic Metal Reviews? Most humans understand reality through social definitions because this flatters their pretense of being important in cold and empty universe. Others prefer to find meaning through bonding with reality in all of its darkness. For noticing the difference, we get called sadists.
Algebra – Feed the Ego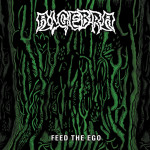 Late 1980s speed metal gets a strong infusion of Slayer-styled energy and tempo. If you can imagine second-tier speed metal bands using the riff patterns and rhythmic shifts from Reign in Blood, you grasp the basic idea here. This makes for fun listening but underneath the surface, an ugly hard rock influence shows, and the derivative nature of the riffing makes it hard to take seriously.
Cradle of Filth – Total Fucking Darkness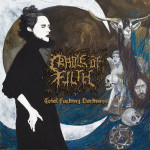 They released the demo of the band that initiated the downfall of black metal. Like Opeth, Cannibal Corpse, Meshuggah and Pantera, Cradle of Filth made a name for itself by taking a new style and dumbing it down for an audience that wanted spoon feeding. Notice the idiotic hipster trend of inserting the word "fucking" to make an otherwise recombinant title seem edgy. What you will hear on this lengthy demo is basic deathgrind verses with melodic heavy metal choruses kicked into high speed and aggression with borrowed technique. Oh wait, there are keyboards so you can feel more profound than your friends for listening to such an open-minded band. This entire thing is transparent and shows how from an early date, this band was scheming to make a vapid but "profound" (like dreamcatchers, Ansel Adams posters and Eckhart Tolle) sound. While it is not explicitly terrible it also fails to make any lasting connection to the inner layers of being, like higher brain functions or what we sometimes call a soul.
Ending Quest – The Summoning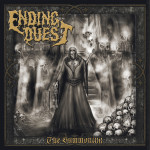 In my dream, I was in a vast house by the seaside. In the east wing, the hallway had endless doors. I opened one and immediately recoiled. I was in the retro-Swedish death metal room again! Ending Quest provides a better than average take on the retro style but does not achieve any level of impact such that it must be listened to. Imagine mixing a melodic Necrophobic-style lead rhythm riff into a more rock 'n' roll version of Entombed Left Hand Path in the riff department. Then work in elements of the death 'n' roll that came a generation later: abrupt cuts, bouncy grooves, relatively standard song format and lots of melodic hooks. The problem is that after a while it starts to sound like sonic wallpaper because it uses roughly the same approach and template to writing each song. Thus what emerges is a dozen songs that feature familiar motifs and all run together into a blur of Swedish-tasting death metal with hard rock undertones.
Final Conflict – Ashes to Ashes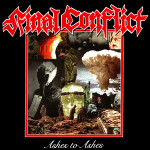 I always enjoyed this late hardcore offering but never found it as hard-hitting as the Cro-Mags, Amebix or Discharge. There's a good reason: if Descendents decided to make a hardcore, it might sound like this. Riffs fit the patterns of basic California hardcore adapted to the stream of powerchords attack of the Exploited or Cro-Mags. But ultimately, this is melodic punk. Vocal melodies predominate with heavy focus on chorus and riffs work in enough melody to be predominantly hook-driven. Add to this lyrics that span a gamut from radical anarchistic sentiment to mainstream right-wing moderate calls for defense of rights and freedoms, and you sense a movement looking for a purpose. However Final Conflict create an album without filler that hits hard and keeps riding that violent energy which makes this a hardcore album you can appreciate without descending into total alienation. It's probably a great workout album.
Greenleaf – Trails and Passes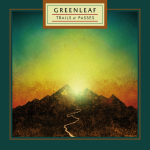 Do they ever tire of peddling the same hackneyed crap? This sounds like early 1960s angry rock, with a heavy MC5 influence. Bluesy, with extended rhythmic breaks and emphasis on a hippie vocal, this band might think they are related to metal but this is purely on the aesthetic basis that they use distortion pedals. Baby Boomers love this stuff because it lets them revisit their ancient pointless youth in the free love and whatever-stupid-shit-you-think-is-OK-man 1960s, but for the rest of us this retro detour is a dead end.
Humut Tabal – The Dark Emperor ov the Shadow Realm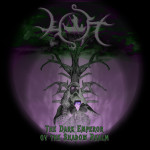 Some of our writers here think highly of the Texas scene but it seems to me that much like Texas itself, the scene there is composed of odds and ends. Such is the case with Humut Tabal who are jack of all trades and master of none. The basis of this album is promising melodic black metal with too much influence from the ersatz article like Watain, but the band know how to write some songs that verge on the beautiful. Then they drop in some idiotic riff straight off a Pantera album and reduce the IQ in the room to Juggalo levels. While their melodic approach, reminiscent of Dawn and Sacramentum, is basically really good, the band overplay it and end up with an album that disappears into its own sound. On the plus side, these songs remain distinctive enough to tell the difference, which suggests this band has the ability to have a bright future if it wants it. But maybe drop the two-word trendy name and the ridiculous "ov" style spelling, get more of a purpose, and stop trying to please everyone at once. You can't do it because it should never be done.
Mordbrand – Imago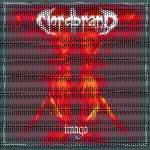 As a genre descends, it improves in attention to details including basic musicality but fails at its center where meaning lies. This Swedish death metal revival band bash out a formula at either fast or slow speeds, but the effect is the same. It is focused on chorus as hook like the later Sodom records and never really develops past having a cool melodic idea for a riff; songs are essentially in standard format and take huge influence from later crustpunk which was by definition formulaic. There are parts of this to admire but the whole adds up to less than the parts.
Steel Prophet – Omniscient
Middle 1980s style speed metal picks up a few stylistic flourishes from power metal but basically stays in the great quest for a catchy chorus that can be backed by lots of muted downstroke strumming. Melodically, it closest resembles Judas Priest but adds some Manowar-like touches. Songs fit more into the rock 'n' roll mold of building everything as a support structure for the vocals, and drums, bass and lead guitars generate a backgrond that is too busy to make this anything but the kind of sonic assault waged by a fast-sell commercial. The vocalist exhibits quite a bit of talent and none of the players are bad, but the way they choose to combine this material resembles the frenetic activity at a shopping mall in that for all that it is busy, it never gets anywhere.
Dawn – Nær Solen Gar Niþer For Evogher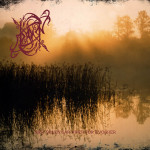 This re-issue tempted me but ultimately I have decided it lives in a duality: it has great melodic ideas and riffs, but insists on the type of semi-random songwriting that later became famous with metalcore. Riffs shift into other riffs without any real sense to the arrangement; by rock theory, this is OK since they're in the same key. But in metal, the riffs talk to each other. Sometimes this band tends to like to bash out fast repetitive melodies on a plodding rhythm until the audience shoots itself. But scattered throughout this album in abundance are good melodic ideas and some really great riff pairs. If the band had worked on song structure and arrangement more, this could have been an A-level black metal album.
Tags: algebra, cradle of filth, ending quest, final conflict, greenleaf, humut tabal, mordbrand, steel prophet