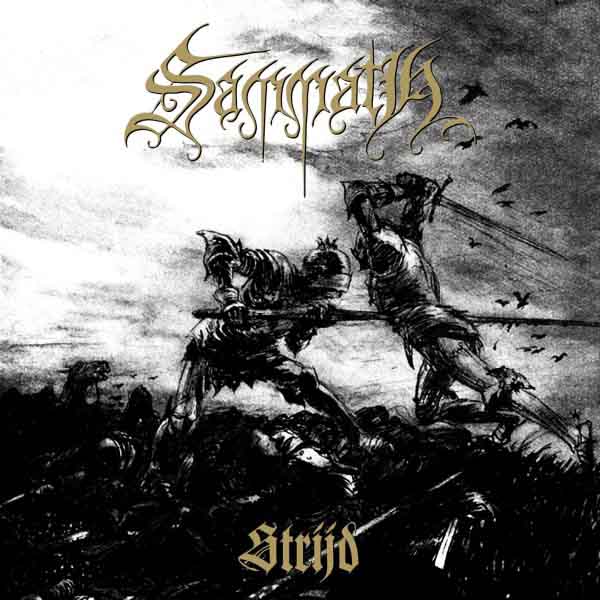 Dutch-German black metal band Sammath will re-issue its first album Strijd on Hammerheart Records during the first quarter of 2016. This under-appreciated classic has made fans for its enduring emotional and technical power. As our review at the time opined:
Sammath achieve a vast sonic landscape with this release that merges fast black metal riffing with elegant melodies that rise out of the chaos and return to mesh with its themes and transit to a final state which expands upon the conflict. On Strijd, riffs are heuristics which evolve over time as more texture emerges.

The result feels like a land constantly wracked by war and disaster in which brief moments of intense beauty emerge. The majority of riffing here is consistent with what one might expect from late-1990s black metal, which is a stripped down but highly genre-conventioned vocabulary. Unlike most bands Sammath fits these riffs together into a language that fits each song, and as such there are no random bits floating around for the purpose of being faithful to a template.
The emotional state of black metal is fragile because it is finely delineated and requires a great deal of background experience and understanding to parse. Sammath achieves the violence and yet arch beauty of black metal, a Romantic vision in which the lone thinker takes on the herd and triumphs by denying the human pretense which unites dying societies like our own. Strijd shows Sammath at simultaneously its most emotional and most violent. While not as technical as later releases from this band, Strijd won over fans for its plain-spoken truthfulness and elegant melodies.
A statement released by the band detailed the upcoming re-issue of Strijd:
Sammath to reissue debut LP on Hammerheart Records

In the first quarter of 2016 the long sold-out debut album "Strijd" from Sammath will be re-issued.

"Strijd" delivers black metal in high-powered generous doses but also maintains its introspective side, creating the perfect melancholic warrior album for a dying world.

The LP will be released on gold vinyl and is limited to 300 copies.
Many of us are also hoping for a CD re-issue so that new generations can own this powerhouse in a compact format.
Tags: Black Metal, hammerheart records, sammath