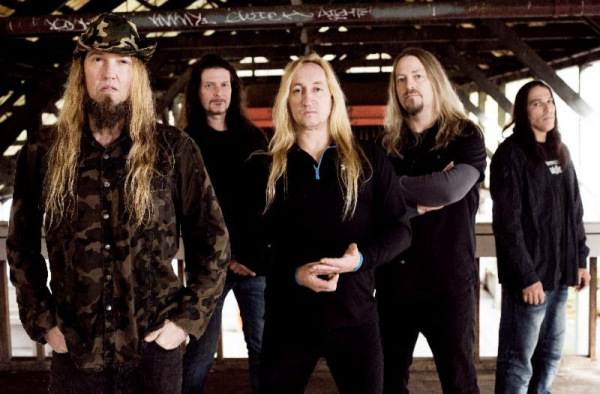 During the 1980s, Sanctuary albums popped up wherever speed metal was sold but never quite found entry into the genre because of their reliance on a hybrid sound with the brainy radio heavy metal of the day. Like Queensryche, they embraced the dark rainy sound of the Northwest that later lived on in grunge which aims more toward presentation of intense vocal performances than a maze of riffs leading to detonation.
"Exitium (Anthem of the Living)" takes a doom-metal infused perspective on that style much in the style of Skyclad or Confessor, dropping into slower riffs to allow melancholy vocals to tie the song together. Song structure is simple and cyclic with flair but essentially exists to support vocals, so riffs follow a verse-chorus layout. The vocals sound a lot like Alice in Chains with more morbidity or Queensryche with more aggression, laying out a melody that is both hopeful and fatally self-contradictory. This creates an atmosphere of darkness with an inspirational tinge to it that seems almost like the band is exulting in self-pity.
The newest Sanctuary album The Year the Sun Died will walk among us on October 14. Fans of this band may find the changes unsettling and less intense than past works, but may appreciate the greater emotionality and connection to inner sensation that The Year the Sun Died appears to offer. As metal reaches toward rock in many directions, this somewhat overcast and isolated approach may work for Sanctuary as they try to forge anew their signature sound.
Tags: Doom Metal, sanctuary, Speed Metal