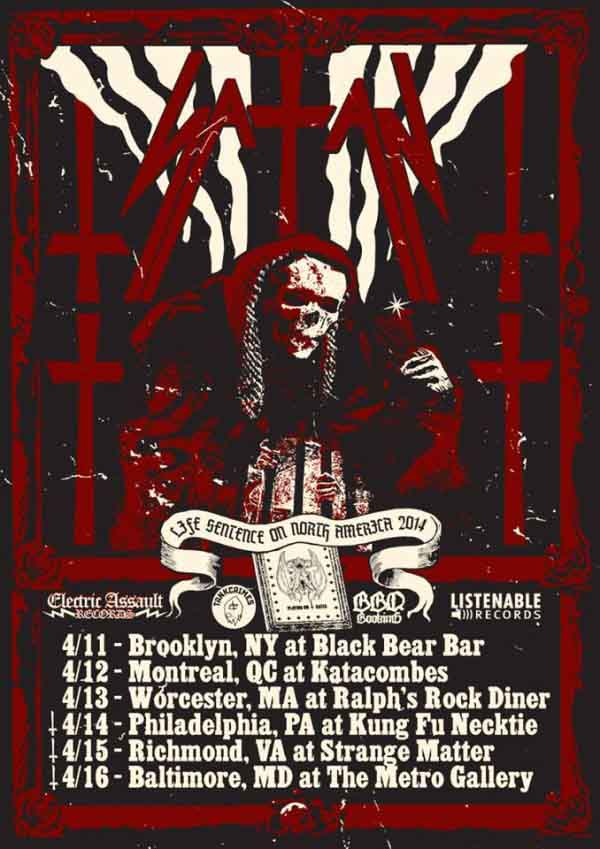 Satan won 2013's Best of the Year award from Death Metal Underground for its album Life Sentence which shows the best of NWOBHM merged into the powerful techniques of the speed metal the band inspired back in the day.
Now, for the first time, Satan is touring North America starting in April. You can catch this classic metal band (which shares personnel with Blitzkrieg) at several locations already announced for the east coast, with more to come.
If you enjoy metal anywhere from the late 1970s through late 1980s models of technical, inventive riffcraft bearing and emotionally complex metal, Satan Life Sentence provides an older and wiser take on that era with just as much invention and perhaps more intensity.
4/11 – Black Bear Bar, Brooklyn NY
4/12 – Katacombes, Montreal QC
4/13 – Ralph's Rock Diner, Worcester MA
4/14 – Kung Fu Necktie, Philadelphia PA
4/15 – Strange Matter, Richmond VA
4/16 – The Metro Gallery, Baltimore MD
Tags: Heavy Metal, NWOBHM, Satan, Speed Metal, tour