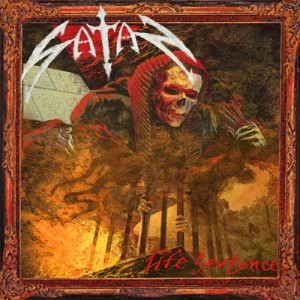 Back in the 1980s, the wisdom was that Satan had something to do with the founding of speed metal, along with Blitzkrieg and a few others who got into the choppier, more muted strum side of NWOBHM.
Having two members go on to avant-progressive speed metal act Skyclad did not hurt the legend. Thirty years later, Satan return with Life Sentence, an album that is musical enough for power metallers but uses the same efficient mix of speed and classic riffing that made Judas Priests's Painkiller such an enduring favorite.
In addition, this band has internal quality control, which is something that seemed to go out the window with the rise of MP3s. This album fits together as an album, not as a concept album but as enough and varied interpretations of a style to make a consistent but not repetitive package.
Riffs on Life Sentence are of known general types but are not recognizably derived from anything else, and while they are generally used in pop-style song structures, tend to illustrate the theme of each song in sound. In addition, Satan use riffs as archetypes and vary them for fills or changes in song direction. This distinguishes them from many of the more template-based heavy metal bands.
The strong underpinning of riffs supports a subtly jazz-influenced percussion that mimics the guitar while trying to stay as much in the background as possible until it is time for a strategically interesting fill, at which point it explodes. Over this the melodic vocals of Brian Ross, who also sang in Blitzkrieg, surge in both full operatic style and a more surly half-chant.
Lead guitar fireworks are minimized but like everything else on this album, appear when it helps push the song along. However, songwriting on its own is strong, with each song having a clear theme that is played out in the tension between verse and chorus riffs. Nothing sounds hasty or ill-thought; it all fits together and moves as one.
For metalheads who like musicality but might want something more aggressive than your average power metal band, Satan offer a powerful competitor that does not fall into excesses, but keeps its own spirit alive. Life Sentence does not sound like it came out in the 1980s, but also, evokes much of the strength and beauty of the music of that era. This should be a major contender for the thinking metalhead vote in 2013.
Tags: Heavy Metal, life sentence, NWOBHM, review, Satan, Speed Metal