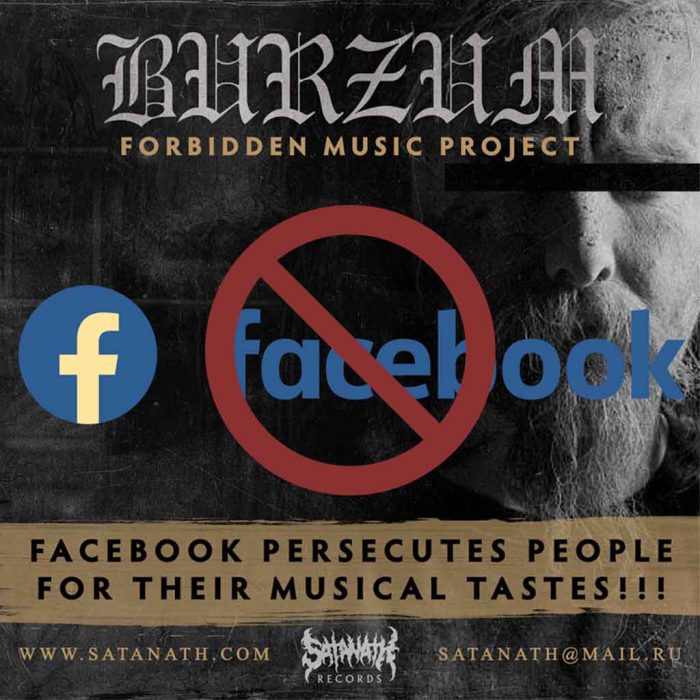 Russian label Satanath Records found out the hard way that American politics have spilled over into cyberspace when Facebook removed its label page for supporting extreme traditionalist black metal band Burzum.
The label issued the following statement:
For publishing a Burzum song, our label page was deleted!

We noticed a long time ago that some people started saying that they were banned on Facebook for 30 days for posting the Burzum song on their page. For example, the page of the American musician I Am Esper was banned for 30 days for a video with a cover of the song Burzum. They also recently banned Spanish magazine Friedhof Magazine for 30 days for their March post about the release of Burzum new album. Now we ourselves are faced with this! In 2018, we re-released 12 Burzum albums and did a box-set. After 2 years, something has changed, now Facebook has begun to persecute and hunt people and communities that published songs/pictures or just posts with the words "Burzum" or "Varg Vikernes". Yes, we all know about the radical political views of Varg Vikernes, founder of BURZUM. However, he NEVER used his music project as a mouthpiece for his intolerant views. Burzum has always been out of politics, had his own musical world, as Varg spoke about in his interviews.

A couple of days ago, we received complaints from Facebook that our two-year-old posts, which are absolutely harmless advertisements for upcoming releases and do not promote any violence or Varg's ideas, violate Community Norms (support for dangerous people). We disagreed with this. We managed to defend one post. There was not even a song, but an ordinary flyer-picture! But all the other posts with the video after verification were still deleted by them. And we were banned for 30 days (not only Satanath Records, but also Symbol Of Domination and GrimmDistribution pages). A day later, they found several more videos from 2 years ago, deleted and again issued a ban, now for 90 days. Then the boss of the label wrote in support and asked why they were removed and banned for posts that did not contain extremism. After that, the Satanath Records page was permanently blocked for no reason. They just sent us a link to the Community Guidelines. Apparently, Facebook's new policy is the systematic removal of all posts related to Burzum, as well as the repression of all users who listen to this group and do not agree with the removal of their posts, which do not pose any danger to others. At the same time, you can now find a lot of really dangerous videos and pages on Facebook, but their new algorithms are aimed at combating any mention of Burzum.
I do not use the word "cyberspace" ironically. The online communities that we enjoy consist of some hardware, some electric impulses over a network, and the interaction of people.
That requires a complex balance, mostly removing off-topic stuff while keeping anything relevant to the discussion, and in metal history, Burzum remains highly relevant, being a huge chunk of the formative material of black metal and dungeon synth.
When companies engage in viewpoint discrimination, or banning topics instead of behaviors, they become propagandists for one of the political forces controlling our lives. This makes them no longer neutral businesspeople, but political agents in their own right, and they should be treated this way.
While Varg Vikernes — who was censored from YouTube two years ago — has made his share of controversial statements, so have most of the foundational metal/punk bands. Do we ban Wagner and Lovecraft as well? Of course not, they are part of the canon; so, too, is Burzum.
Tags: burzum, censorship, facebook, satanath records