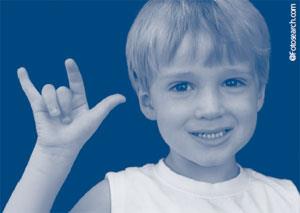 Grand Island, NE — Hunter Spanjer is deaf, and uses a sign language symbol for his name that some school administrators say resembles a handgun.
More accurately, it's the Hessian "devil horns" symbol, which teachers have been trying to ban since the early 1980s. Hessian activist Seamus Israel in Omaha offered the following analysis: "Teachers ban first, then look for a reason why they were right. Now they're using fear of violence to discriminate against Hessians."
Hessians, or metalheads, heshers, threshers, bangers and headbangers, is a term used to refer to those who are not only fans of heavy metal music but incorporate its values, imagery and outlook into their personal lives. "It's a culture like any other," said Israel. "Just because you weren't born into it but found it later doesn't make it any less legitimate than being French, Inuit, Maori, Jewish or a Wall Street economist."
During the 1980s, American teachers banned symbols and behaviors they saw as associated with "Satanism" and sent students home. These included wearing all black, wearing Slayer t-shirts, wearing symbols like the ankh or yin-yang, displaying the "horns" symbol and reading H.P. Lovecraft at lunch when they should have been playing basketball or watching TV.
Used by Hessians worldwide, the "devil horns" symbol is formed by extending the forefinger and pinkie while tucking the other fingers and thumb into the palm of the hand. It is considered the sacred symbol of Hessian unity and allegiance to the ancient powers of darkness that existed before Christianity, humanism, democracy, reality TV and dubstep, said Hessian Reverend Vijay Prozak. "The devil horn symbol is our most sacred rite, similar to ritual dances or meditative breathing in other cultures."
Protests continued at the campus on Wednesday. "This deaf child is paying the price for decades of American anti-Hessian bigotry," said Israel. "In the rush to demonize the horns, and heavy metal music, teachers are now discriminating against deaf kids so that they can find ways to ban heavy metal from the campus."