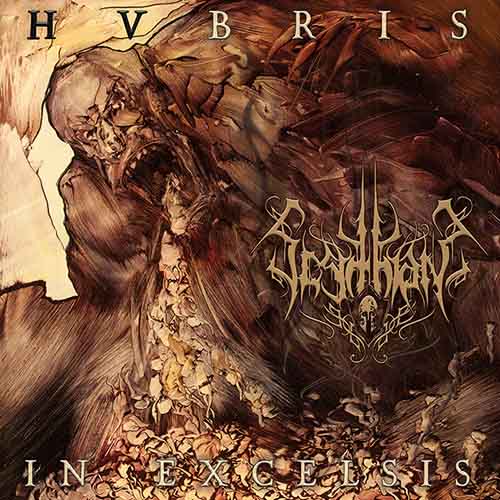 Following the example of Kreator in Phantom Antichrist, Scythian unite riffing approaches from different metal subgenres under the banner of traditional heavy metal and growled or barked vocals, with a result along the lines of the so-called melodic death metal.  In contrast with the noteworthy release Thy Black Destiny, by Sacramentum, Hubris in Excelsis does not coalesce into a thing of its own but just floats around as the result of spare parts being put together to form an undefined, impersonal and disparate heavy metal record. In this, and its revolving around the vocals it is more akin to the Iron Maiden – inclined heavy metal which sets one foot on hard-rock land, using disconnected riffs only as rhythm and harmony to carry the voice.
We hear doom metal proceedings and textures typical of black metal, but these are usually encapsulated within sections. These sections are used in conventional rock-song functionality. What determines this rock versus metal approach? Basically, the total relationship of riffs and sections to voice and in between themselves. Rock (and hard rock after it) carries the music after the vocal lines (thus we can see the slight influence of hard rock over Slayer in South of Heaven even though it doesn't fully give in to the tendency to disqualify it as a metal record). The key tell-tale sign after this is the lack or at least a downplay of motif-relation between parts of the song, the support for main melody or vocal line becoming the most important and prominent element. The effect of this often results in something similar but in the end different from metalcore: disparate parts tied loosely by a certain background consistency (usually harmony for rock and rhythms or motifs drowned in an ocean of contrasts for metalcore).
The plentiful references to many different genres extending all the way to cliche-ridden pagan black metal may throw off the attempts of most to nail down what Hubris in Excelsis actually is, what it consists of and what its essence ultimately is. Hubris in Excelsis is indeed a title that reflects this album beyond their intended concept. Hubris, an excess of self-confidence, often at the expense of prudence and seemliness, is placed in a position of glory, giving way to veiled expressions of ego that disregard any sense of coherence and little consistency beyond the most superficial.
Tags: 2015, Black Metal, Doom Metal, hard rock, Heavy Metal, Hubris in Excelsis, iron maiden, kreator, metalcore, NWOBHM, Phantom Antichrist, scythian, slayer, south of heaven