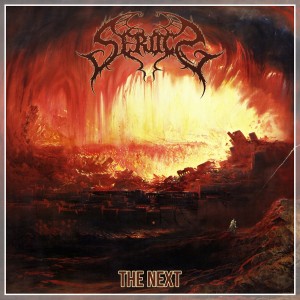 This intensely rhythmic music is strong in its level of energy and ability to make songs that trap and redirect that energy, creating the "oh wow" effect of complex riffs interactions that expand context with subsequent changes, causing a sensation like discovering new passageways in an ancient building.
The Next is like a roller coaster in that while you whisk through it, and while there are many fast twists and turns, the territory is ultimately very similar. Serocs understand how to link riffs together in a powerful way and differentiate these songs by riff-grouping and unique themes and motifs to each. However, the underlying mechanics are similar.
This accusation could be leveled at the deathgrind genre as a whole because the techniques used to make it and the speeds at which it executes itself require such fast fingerwork that chromatic charges and string-skipping are necessary conveniences. Serocs avoid the worst of this tendency by forcing each song to have its own format, tempo changes and some degree of melody.
High-speed blasting marks each track and like the roller coaster of our metaphor, lifts up the listener so that a rhythm drop or melodic hook can send them falling downward. These intense dynamics drive a need to combine riffs and make them emerge in some other direction so the roller coaster can begin its ascent again.
Deep guttural vocals propel The Next to a posture of enjoyment among fans of deathgrind and extreme death metal. Modernizing influences have been kept to a minimum, which gives this album the full-bore coherence it needs to channel its intensity. While the tenets of the genre may drive most away, Serocs acquits itself well and will join the secondary echelon of bands like Scythe and Disgorge.
http://www.youtube.com/watch?v=ENmq-liKwcM
Tags: deathgrind, serocs