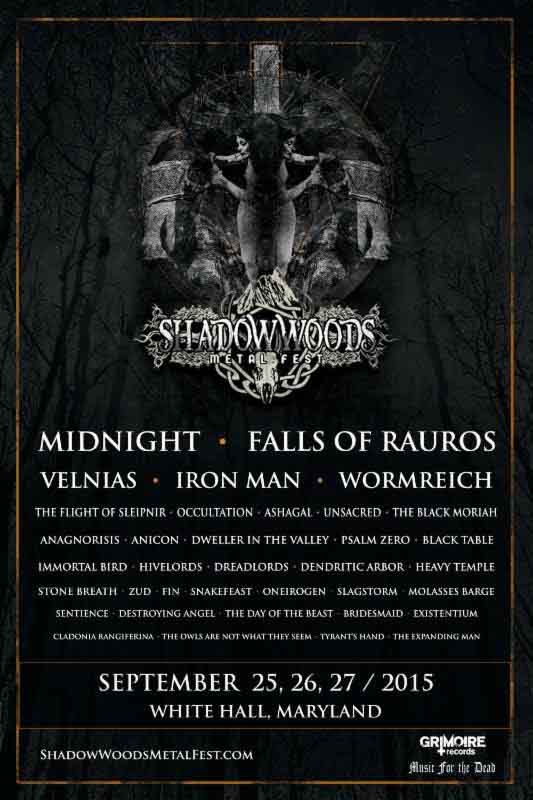 The inaugural September installation of Shadow Woods Metal Fest, the new mid-Atlantic, open-air, camping-based metal fest, has moved slightly Southeast, from its initial placement in Southern Pennsylvania to White Hall, in Harford County, Maryland.
Set to take place September 25th – 27th, 2015, the new location of Shadow Woods Metal Fest is similar to the previous site, with deep woods, cabins and tent camping fields, yet is slightly closer to both Baltimore and Philadelphia, making it even more accessible to East Coast metallers planning on attending the diverse three-day festival. The more intimate setup of the new camp is equipped with several cabins, modern plumbing bathrooms, a professional kitchen, a lodge building, and access to a river, as well as an indoor stage.
Since initial announcements, Menace Ruine dropped from the lineup and was replaced by Black Table, yet the remainder of the Shadow Woods Metal Fest lineup remains the same, including lead performances from Midnight, Falls of Rauros, Occultation, Velnias, Iron Man, Anagnorisis, The Flight of Sleipnir and Stone Breath, along with twenty-six additional acts. The fest is also likely to be the first live performance for the surviving members of Wormreich since their tragic vehicle crash in April. The gathering showcases underground black, doom, death, and noise and experimental metal bands on two alternating stages all day Friday and Saturday. Camping and workshops on topics such as runes, guitar maintenance, yoga and more will be offered and are included in the ticket price. Artists and record labels will be vending alongside several onsite food stands.
There will be ZERO ticket sales at the gate for Shadow Woods Metal Fest– advance presales to those 21 years of age and older is the only way into the fest, and is still BYOB. Cabin beds are now included in the ticket price but are limited to first-come first-served. There is a list you can sign up on mentioned in the private group. There are only 350 tickets in total, and half of those tickets have been sold.
Additionally, the Shadow Woods Metal Fest website has been redesigned to include a store — including a new poster for the event designed by Fred Grabosky of Sadgiqacea. — as well as the newly-launched Shadow Woods Radio, showcasing artists set to perform at the festival. Check it all out RIGHT HERE.
SHADOW WOODS METAL FEST 2015 Alphabetical Lineup:
Anagnorisis (Louisville, KY – black metal)
Anicon (New York, NY – black metal)
Ashagal (New Hope, PA – ritual folk)
Black Table (NYC/NJ – experimental metal)
Bridesmaid (Columbus, OH – instrumental doom-sludge)
Cladonia Rangiferina (VA – ritual black metal, doom, acid rock)
Dendritic Arbor (Pittsburgh, PA – black metal / powerviolence)
Destroying Angel (Philadelphia, PA – folk music for exorcisms)
Dreadlords (Philadelphia, PA – ritual black metal blues)
Dweller In The Valley (Frederick, MD – black, death, doom)
Existentium (Baltimore, MD – melodic technical death metal)
Falls of Rauros (Portland, ME – folk/atmospheric black metal)
Fin (Chicago, IL – black metal; unsigned)
Heavy Temple (Philadelphia, PA – psychedelic doom)
Hivelords (Philadelphia, PA – experimental psychedelic black doom)
Immortal Bird (Chicago, IL – black/death metal)
Iron Man (MD – doom metal/heavy rock)

Midnight

(Cleveland, Ohio – black heavy metal)
Molasses Barge (Pittsburgh, PA – traditional doom metal)
Occultation (New York, NY – doom metal)
Oneirogen (New York, NY – dark, doom, drone)
Psalm Zero (New York, NY – experimental black doom)
Sentience (Woodland Park, NJ – death metal)
Slagstorm (Hagerstown, MD – prehistoric doom thrash)
Snakefeast (Baltimore, MD – jazz metal sludge)
Stone Breath (Red Lion, PA – experimental folk)
The Black Moriah (Dallas/Fort Worth, TX – Western occult black/thrash)
The Day of the Beast (Virginia Beach, VA – blackened death metal)
The Expanding Man (Baltimore, MD – solo improvisational electronic soundscapes)
The Flight of Sleipnir (Denver, CO – black metal)
The Owls Are Not What They Seem (York, PA – experimental ritual soundscapes)
Tyrant's Hand (Baltimore, MD – deathened black metal)
Unsacred (Richmond, VA – savage black metal)
Velnias (Denver, CO – blackened folk/doom metal)
Wormreich (Huntsville, AL & Nashville, TN – black metal)
ZUD (Portland, ME – bluesy outlaw black metal)
http://shadowwoodsmetalfest.com
http://www.facebook.com/shadowwoodsmetalfest
Tags: 2015, Shadow Woods Metal Fest