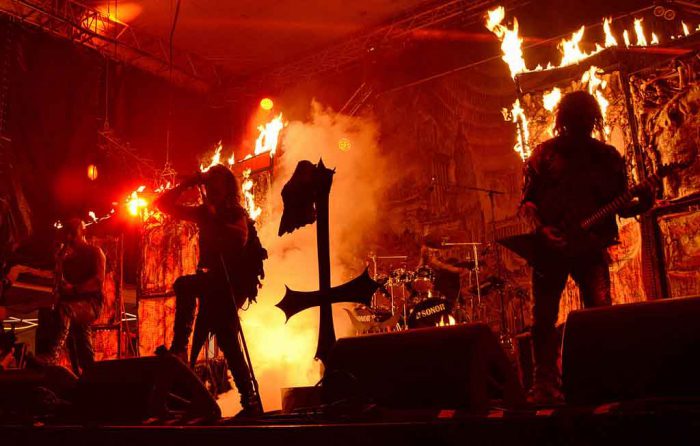 We went into the eighteenth century assuming that man-made or artificial systems could do better than nature, based on the "me first" individualism of The Enlightenment.™ People assumed that this would free us of the kings and the crazed mob both, but they were all deceived.
Mobs after all are formed of individualists. No one joins a mob because they want order; people join a mob because that way, they get what they want, without having to sacrifice themselves to get it. A more individualistic pursuit is hard to imagine.
As the time of individualism fades, people are looking for orders, namely organizations and social frameworks like tribe, culture, customs, faith, and purpose. Black metal tapped into this by pointing out that in the hands of the herd, everything had become a popularity contest or trend and lost its meaning.
For example, black metal criticized religion for essentially losing its fascination with death and judgment and focusing on being "nice" to everyone, and had the same barbs ready for democracy, tolerance, pluralism, corporate chains, and the modern lifestyle. In the name of the self, everything had become passive because groups of selves need a kind of pacifism in order to be selfish together.
The fading of this prole-rule brings a doubling-down on what worked in the past. States are more interested in nations than nation-states now, a change called populism. People are rejecting mass religion and embracing traditional private religion or outright paganism. Faith in the global order and egalitarian ideas like liberal democracy, equality, diversity, and tolerance are fading.
Singapore follows the West in cracking down on metal music for what is essentially hate crimes legislation — "denigrating religions and promoting violence" — using similar language to the proposed anti-Semitism bill now floating around the halls of American government. On the other side of the globe, Singapore has banned Swedish death metal after encountering Watain:
Singapore banned Swedish death metal group Watain Live (sic) from performing a concert on Thursday over concerns about the band's history of "denigrating religions and promoting violence".

"MHA has expressed serious concerns about the concert, given the band's history of denigrating religions and promoting violence, which has potential to cause enmity and disrupt Singapore's social harmony," the IMDA said in a statement.

Singapore keeps a tight rein on public speech and the media, especially when it comes to matters related to race and religion, but bans are fairly rare.
We now have two groups trying to police speech and art: those who want to defend the traditional, and the much larger group, the Leftists, who want to prevent anything but egalitarian dogma from getting to the audience. This shows the two forces gearing up for world conflict in the coming century.
In the meantime, we might recommend to Singapore that they take another look. Organized religion has proven itself inept at defending tradition, but accurate when it comes to nailing altar boys. Even more, this religion is now preaching equality instead of the idea of an order larger than the individual, and therefore the most devout should throw it out the window if they encounter it.
People want order. Order requires standards, norms, and a sense of purpose. In the West, we tried to derive these from Christianity, but because it was focused on the individual and the universal, it assumed something like equality in the mental awareness and cognitive abilities of its followers, and so it was easily taken over.
For those of us who hold to the Old Ways, which state that religion is an offshoot of the customs of your land and consists with direct contact with nature, these newfangled religions seem to have failed, even if we recognize that they are mostly written statements of our knowledge that was passed down through experience between the generations.
We are sailing into uncharted waters with this new conflict. The idea that has led our societies for the past half-millennium is dying, falling apart as it comes into conflict with itself, since the world that it has created it is the opposite of what it promised. Swedish death metal will lead the way, no doubt.
Tags: censorship, jesus, Singapore, watain