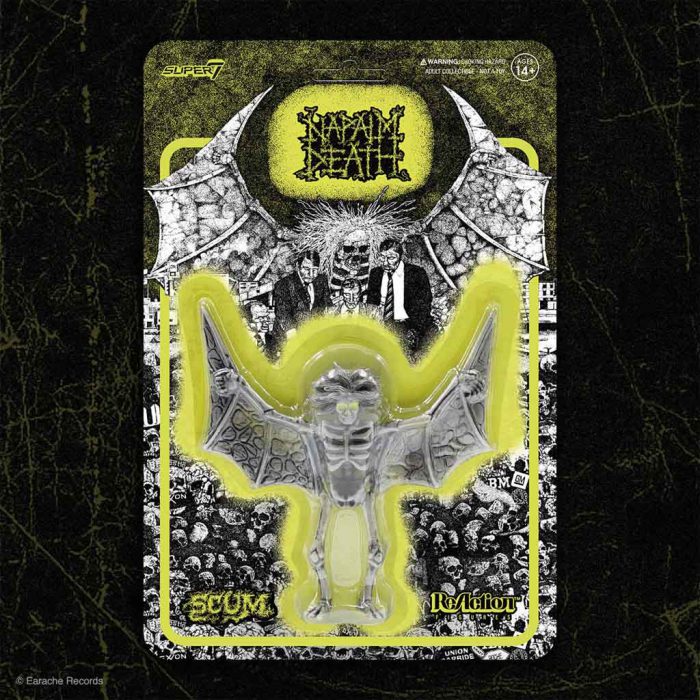 Everything must run its arc, and for grindcore that arc apparently ends in being commercialized just like everything else. Rendered in plastic, served up on styrofoam, simplified to obsequious edginess, and yours for the low, low price of $19.99, the new Napalm Death Scum "Reaction Figure" glows in the dark just like your FBI agent.

Ahem:
The multinational corporations
Makes its profit from the starving nations
Another product for you to buy
You'll keep paying until you die1
The label admonishes:
Super7, makers of the hit ReAction figures which celebrate the iconic action figures of our childhood, have announced a brand new NAPALM DEATH 'Scum' ReAction figure.

Inspired by the 1987 debut album from England's grindcore pioneers NAPALM DEATH, the 3.75″ Scum Demon ReAction figure is encased in a blister pack on a cardboard back which mirrors the influential album's cover, with the debut colourway matching the album's first pressing.

With an ever-growing range of music inspired action figures to their name, Super7 are well versed in bringing the icons from your favourite rock, punk and metal bands to life with these authentically detailed action figures, and the new Scum Demon ReAction figure is surely one of the most impressive characters so far.

Fully licensed and endorsed by the band, this is a must-have for all NAPALM DEATH and Super7 collectors.
If you need more plasticized commodity Utopia in your life, go ahead and click the Earache webstore link. Bonus: each click sends a copy of the lyrics to Scum to the Earache webserver. Please don't hammer this link too much, since loading only two of them crashed it for a few minutes last time I did it. Definitely don't hammer the fucker to rage at the consumerism-communism hybrid dystopia in which we now live!
Tags: Grindcore, merch, napalm death, toys