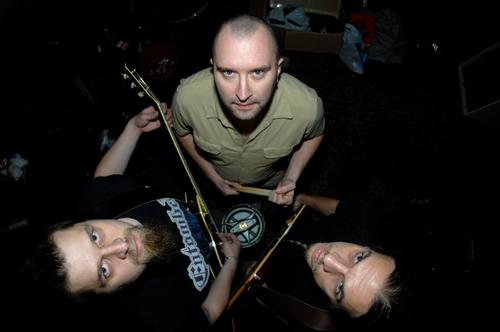 Continuing our series of metalcore bands, a brief look at Standard Whore shows us an exceptional version of the modern metal style combined with a guitar rock outlook.
From the mastermind guitarist and drummer of Demilich, this style in post-Gorguts Obscura era metal hybrids uses the post-hardcore tendency to string together surprising and alarming riff combinations with a stoner rock or guitar rock tendency to stitch it all into a big jam session. One thing's for sure: if you're looking for metal, look elsewhere.
The same quirky riffing that made Demilich distinct is here but with more groove, less complexity, and its weirdness has been redirected to a sense of catch and hooky sounds. The result is really easy to listen to, and joins other mostly-instrumental projects like Blotted Science in trying to forge a new late model of the old influences.
Boman's guitar is the organization voice here and gives to this style a new dimension into which it could expand, which is to remove the pretense of deconstruction and allow a jam to bleed itself together out of these spacy riffs and tortuous tempi.
Somehow I missed this back in 2010, but it's good to give it some air and light now. These songs are from a live rehearsal session featuring material written 2008-2010.
http://www.youtube.com/watch?v=IzBwprczDm4&feature=related
http://www.youtube.com/watch?v=XjyyKaOw3sI&feature=related
http://www.youtube.com/watch?v=Dimd6hqsaDk&feature=related
http://www.youtube.com/watch?v=pThtiIE3RKE&feature=related
http://www.youtube.com/watch?v=6OhS5JSFLCs&feature=related
http://www.youtube.com/watch?v=KBa6i9aE1kc&feature=related
Tags: Demilich, metalcore, standard whore