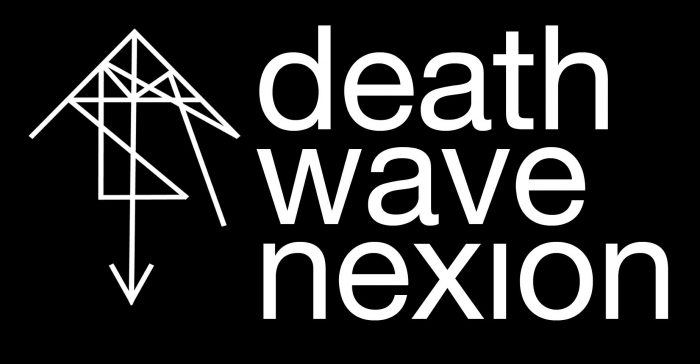 D.A.R.G. : the statement below came to us from the leadership of Deathwave Nexion, and is published here as part of our continued support of outstanding music by people fostering genuinely dark philosophy through adversarial action.
Statement from DEATHWAVE NEXION Record Label and Publishing House:
Whilst remaining largely driven to the release of Neoclassical, Electronic and Ambient records, as detailed in the past and present efforts, our nexial decision to begin incorporating Heavy Metal bands into our cadre has come with no easy discernment. Purposefully aimed at quality over quantity, we have thus far approached or have been approached by artisans who we can collectively say are 'masters of their craft,' and no such lower tier of delivery should be permissible if our full weight of promotion and esoteric pairing are to be present.
We have selected a small group of individuals, each with their own sublets from which they are respective champions, but maintaining a shared lineup throughout. These are: DECIEVERION, a classic Black Metal act from Pennsylvania, and no stranger to the nightspirits of yesteryear; SHADOWS IN THE CRYPT, a 'Sinister Cult' from Pennsylvania whose sole purpose is to create the most menacing, hate-driven anthems of Devildom, and SERPENT OV OLD, the masterful effusion of many-years of learning through hardships and grief.
These three bands share one common thing among themselves: the members, whose efforts in the genre of North American Black Metal, and especially that which has thrived within the tri-state area, has existed and proliferated independent of genre-trends, subcultural infiltration or consumer interest. Nay, this Unholy Trinity has been, each respectively the bastions of inspiration, and each collectively, the circle of tradition, from which in the darkest times of the Black Metal genre's foolery, have held down the fort for all of those whom have stayed pledged in allegiance to the dark.
What then separates the efforts of some small, underground, virtually invisible label, and its venture into the metal genre, from any other plastic theater? It is the fact that these "musicians," are not just that, they are each individually, archetypes of the new aeon. The personnel surrounding the groups in question are antibodies within the mundane superstructure. Given to paths of sharp-living, recognizing no law, and no authority – foregoing the "normal" life which is emblazoned on the armbands of every reactionary, neo-Neckbeard; these are real criminals. They are dedicated to the dark deeds of the devil. In this, their journey towards restoration of principles once commonplace in Black Metal might yet see a renaissance, and in their seedings, might a new prototype of individual arise to stand before the failing species of man.
A New Sample Track from SERPENT OV OLD (2018 via Deathwave Nexion)
Many thanks to D.A.R.G. for the continued support and camaraderie, to S.R. Prozak and the Hessian stratosphere, and for their journalism, which has intersected with our work in the past, and with any luck will continue to in the future.
Julvarg
Deathwave Nexion
2018 Era Horrificus
Tags: deathwave nexion, DECIEVERION, serpent ov old, Shadows in the Crypt