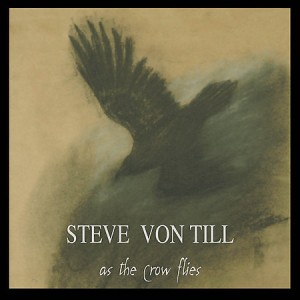 It is one thing to become acknowledged within your genre as a leader. It is still another to reach outside that genre, and become more than an artist, but a sage.
A sage is part explainer of the past, part philosopher and part artist who makes the future seem full of interest and beauty. No matter how long someone labors in popular music, they will eventually desire to become the village sage, because that is a position above entertainer. It is a trusted voice that is a guide for culture.
Steve von Till rose to fame with Neurosis, whose music he took far beyond hardcore into the realm of psychedelic and experimental music. With this re-issue of his solo album from 2000, we can hear his voice develop from rage and ambiguity to a desire to reform culture itself. This acoustic guitar album shapes itself from simple melodies and muttered, droning vocals melded into slow atmospheric songs.
As The Crow Flies attempts to create a folk music out of the postmodern time, having let the ashes of dystopia fall. These songs are sentimental and emotional, but not in the cloyingly insistent way that pop must be. Instead, like the music of Tom Waits or Dead Can Dance, songs try to nail the feeling of a particular time in life and galvanize us toward both clarity and an amorphous desire to surpass the past.
von Till carefully paces the album so that songs appear in a varied order, using additional instruments sparsely to differentiate themselves, such that mood is not broken but slowly changes like a banner twisting in a nearly-becalmed afternoon wind. These are songs both unexpected and familiar which wring out of our decaying age a new reason to believe in the emotional power of living, and that makes As The Crow Files a success of a different color.
Tags: folk, neofolk, neurosis, steve von till