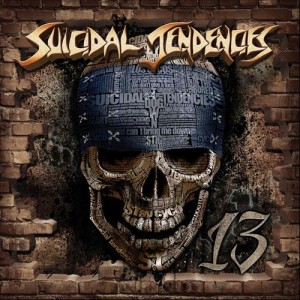 The problem with success is that it can become a cage: you get known for doing something that meant a lot to you at the time, but time goes on. You want new horizons. It's hard to express them, and you see others succeed for doing a lot less.
Suicidal Tendencies launches 13 into a time where metal and punk have both decided to commit suicide by melding so extensively with other genres as to lose their own identities. Melding itself isn't bad, but when a whole genre does it, it essentially obliterates its unique voice and makes itself another flavor of rock music.
13 escapes Suicidal Tendencies' past by mixing in a number of alternative, improvisational and extrinsic styles. In particular, you'll hear island-based world music, Rage Againsst the Machine, and even the keg-party reggae-influenced rock of bands like Sublime, all mixed into what's essentially a punk band playing metal. The locus of the action has changed: where the original Suicidal Tendencies want to make a point with its songs, these songs want to set up a convivial atmosphere and into that speak some ideas with lyrics. The original songs resembled their content; these songs are a mixture of fun and diverse elements, and expression occurs in the lyrics.
With this album, Suicidal Tendencies demonstrate how an album can be quite good and not satisfy its original audience. I think this will be a huge hit among the alt-rock and nu-metal crowds because it's more musically interesting than most of the kiddie music. It's based on firm grooves, catchy melodic vocal hooks, and an insanely over-the-top constant lead guitar jam that gives this music a breadth that is rarely found in music you hear on the radio.
However, for metal fans this one is going to be a failure. It has lost the metal spirit, and it essentially party rock with some metal riffs. The cool guitar work and occasional shredding give this some power, but it doesn't switch it to the viewpoint a metal fan will appreciate.
Tags: suicidal tendencies, Thrash