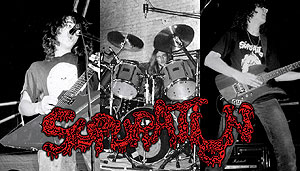 Yes, the mighty french legend SUPURATION (aka SUP) are back from the crematory in form of a retrospective collection CD which includes all the earliest and most brutal stuff of the band from '89 /'90 when they were in their most Death Metal shape right before they started to experiment with clean vocals and more varied sounds.
"Back from the Crematory" is the generic title of this cult release which is planned for an imminent release on September 16th. The CD includes the awesome band's debut self-financed mini CD "Sultry Obsession" ('90), their only demo "Official Rehearsal" ('90) as well as the impossible-to-find demo of the band's very 1st studio recording "Haunted" under their previous monicker ETSICROXE as well as a 9-song live show, both from '89.
This masterpiece comes with remastered sound and packed in a total old-fashioned layout in contrat to their latter weird & sophisticated designs. Includes killer 12-pages booklet featuring an exclusive retro-interview, liner notes, cover and tons of old photos & flyers. This definitely a must-have release not only for every SUPURATION fan, but for every lover of the good old Death Metal from late 80's and early 90's!!